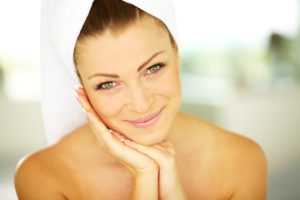 Laser skin resurfacing is a safe, proven and effective way to rejuvenate the skin surface without involving cosmetic surgery.
The treatment provider will use a carbon dioxide (CO2) laser technique to carefully remove the uppermost layers of dead or damaged skin to reveal renewed, smoother skin. Mild aging signs on the skin's surface may be treated with Erbium laser technology, but CO2 is preferred for deeper wrinkles and creases.
Dr. Bryson Richards is a board certified plastic surgeon providing high precision laser skin resurfacing and other surgical and non-surgical cosmetic treatments. Dr. Richards will explain the pros and cons of laser skin resurfacing during the initial consultation. He provides this procedure to patients in Las Vegas, NV and surrounding communities across the horizon.
How does it Work?
The outermost layers of damaged skin will be removed in a delicate and precise manner with controlled CO2 laser beams. This targeted treatment will stimulate the regeneration of renewed skin underneath. Unlike plastic surgery, the procedure involves minimal risk, discomfort, or downtime.
Advanced laser skin resurfacing techniques make use of light beams that are pulsed or scattered at a rapid rate to achieve better outcomes in a least aggressive way. This approach ensures that the skin is exposed to minimal heat, and the surrounding healthy tissue remains unharmed.
More intensive CO2 laser treatment can be applied for deeper tissue correction in order to improve major wrinkles and creases on the surface. Significantly age-defying results can be achieved when laser skin resurfacing is performed by an experienced provider.
Laser skin resurfacing is commonly performed over large parts of the facial area, or in targeted sites such as around the mouth or below the eyes. A local anesthestic may be applied to keep the patient comfortable during the treatment, but in a few cases, the provider may use sedation.
Suitable Candidates
People who are bothered by the appearance of significant aging signs on the face, but want to avoid surgery, may make good candidates for laser skin resurfacing. The procedure is also suitable for individuals with facial scars or uneven pigmentation.
The laser treatment expert will closely evaluate the patient's skin type, tone, color and degree of skin laxity before recommending laser skin resurfacing. Experienced cosmetic surgeon Dr. Richards receives patients from Las Vegas, NV and nearby areas for laser procedures.
Benefits
Laser skin resurfacing is a very precise technique to reduce the impact of aging lines on the face, reduce uneven skin complexion, and reveal youthful skin that exists below the upper damaged layers. Skin imperfections and facial scars can also be improved with this treatment.
Apart from correction of facial wrinkles and fine lines, laser skin resurfacing is also useful in addressing skin conditions such as uneven pigmentation, sun damage, benign lesions, and pre-cancerous spots.
Safety
Laser skin resurfacing is a completely safe procedure, as long as it is performed under the supervision and guidance of an experienced medical professional. The patient will be required to avoid sun exposure for several weeks after the treatment in order to achieve safe and desirable outcomes.
If you would like more information on cosmetic surgery procedures and treatments performed by Las Vegas, Nevada plastic surgeon, Dr. Bryson Richards please contact us at 702.870.7070
Taking new patients from Las Vegas, Bullhead City,  Laughlin, Pahrump, Mesquite NV and surrounding areas.