Facial Fat Transfer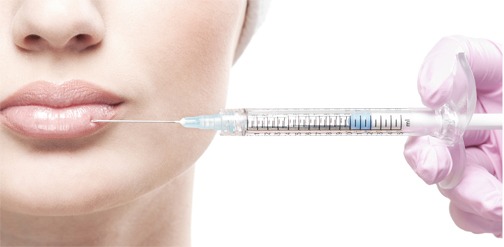 Lip augmentation through fat transfer is a form of noninvasive option for patients looking for enhancing the size and shape of their lips temporarily without using artificial dermal fillers. The fat is collected from the thighs, buttocks, or abdomen among other donor areas. It is purified before injecting in the lips.
The goal of this procedure is to enhance the volume of your lips naturally by using your body's excess fat. This also means that there is zero risk of rejection. Lip augmentation with fat transfer is a two-step process since the fat needs to be harvested before being injected.
Board certified plastic surgeon Dr. Bryson Richards provides facial fat transfer for lip enhancement to patients in Las Vegas, NV, and surrounding locations.
Cosmetic Concerns
These are a few cosmetic concerns that can be treated by using lip augmentation using fat transfer:
Lip Size: You can enhance your lip plumpness and volume through strategic injections with autologous fat transfer
Lip Shape: Autologous fat transfer can improve the contour and symmetry of your lower and upper lip
Facial gat grafting can also be used in the area around the lips and nose for improving:
Marionette lines
Nasolabial folds
Unfilled lips
Undefined lip lines
Smoker's lines
Ideal Candidates
Approvable candidates will naturally have thin lips or a decrease in lip volume because of age related factors. Lip enhancement through fat transfer is not recommended for patients that are heavy smokers (and unwilling to quit for a brief period), have infections in and around the mouth area, or don't have enough excess fat for harvesting.
Procedure Details for Lip Fat Grafting
The surgical team will first use colored pens for marking the donor site from where the fat will be taken and the areas on your lips where it will be injected. Lip fat grafting requires a tiny amount of fat, which means it will probably be taken from a single site.
Liposuction will be used by the surgeon for harvesting fat from the donor site. The fat will be refined through a centrifuge to remove oil, blood, and water among other components. It will then be injected in the new location. This will be done slowly to allow the surgeon to sculpt the lip for better looking results.
Estimated Recovery Period
Swelling and bruising should not last for more than 5 to 10 days. Majority of patients are allowed to resume work within 48 hours of the procedure. Normal activities are allowed within a week of the procedure.
Lip Augmentation through Fat Transfer: Results
You may be able to acquire immediate results by getting a lip augmentation performed with autologen implant. However, it may take up to 3 to 6 months for the final results to take effect. A percentage of the transplanted fat will get reabsorbed by the body over time.
However, once the fat settles, results may last anywhere from 6 to 24 months. Cosmetic surgeon Dr. Bryson Richards receives patients from Las Vegas, NV, and nearby areas for facial fat transfer to enhance and reshape the lips.
Contact Las Vegas Board Certified Plastic Surgeon Dr. Richards to Schedule a Consultation
If you would like more information on cosmetic surgery procedures and treatments performed by Las Vegas, Nevada plastic surgeon, Dr. Bryson Richards please contact us at 702.870.7070
Taking new patients from Las Vegas, Bullhead City,  Laughlin, Pahrump, Mesquite NV and surrounding areas.