Facial Fat Grafting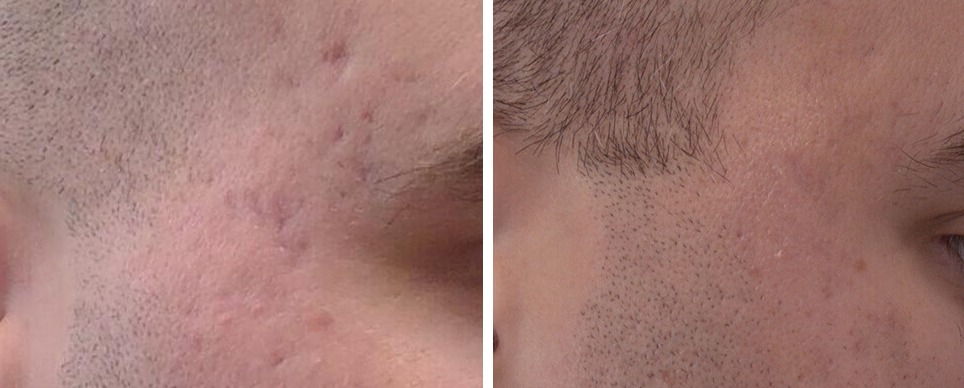 Scarring can take place anywhere on the body after eventual healing of damaged skin tissue. Burns, chicken pox, injuries, sun exposure, acne, radiation exposure, and others can cause scarring on the skin. Itching, pain, and discomfort are the usual accompaniments to scarring.
Facial fat grafting is an excellent repair solution for various types of scars. The procedure involves harvesting fat from one or more places on the body and grafting it elsewhere. You can reduce the appearance of scars on the body and face with structural fat grafting. This includes taking care of deep depressions and dimpling to provide softer, thicker, and healthier skin.
These are a few potential benefits of fat grafting for scarred bodies and faces:
Reducing itchiness and pain
Improving the quality of scarred and aged skin
Treating chronic ulcers
Healing damage from radiation
Board certified plastic surgeon Dr. Bryson Richards provides facial fat grafting for the removal or reduction of scars to patients in Las Vegas, NV, and surrounding communities.
Good Candidates for Facial Scar Reduction with Fat Grafting
Structural or facial fat grafting moves fat from one body part to another. There is no risk of allergic reaction or rejection, which means that anyone can get the procedure done. It can be used for repairing scars on the body and face that were caused by a wide range of factors. Both women and men with any skin type may be suitable candidates for scar reduction with facial fat grafting.
Procedure Overview
Colored pens will be used by the surgical team for marking the exact graft and donor areas on the body. The doctor will then harvest fat from the body using liposuction. This will either be done from a single area or multiple ones. Centrifuge will be used for refining and concentrating the fat. This will also remove any unwanted substances, such as water, blood, and oil.
The doctor will finally place the purified in the targeted location. This process can take 2 – 3 hours depending on the amount of fat required.
Anesthesia Types
General anesthesia is used for the surgery. However, local anesthesia with sedation may be used for smaller and minor procedures.
Recovery
The extent of the procedure will determine your recovery time. Bruising, swelling and soreness are a few side effects. Recovery generally happens quickly in minor cases. You should be feeling normal in just a few days. In complex cases, bruising, soreness, and swelling may last a little longer.
Generally, it takes 2 to 3 weeks for the bruising to fade away. Swelling may also take 2 to 3 weeks to fade away completely. Also, swelling in the donor area may take up to 6 months to heal. You should be able to return to routine activity in just 2 weeks depending on the level of recovery.
Anticipated Results
Traditional fat grafting is not 100% effective. However, structural fat grafting has a high success rate. There are studies needed to measure the survival rate of transplanted fat over time. There are several benefits to the procedure:
Better scars
Zero risk
Continued improvements
Side Effects
Bleeding
Infections
Swelling
Bruising
Cosmetic surgeon Dr. Bryson Richards receives patients from Las Vegas, NV, and nearby areas for facial fat transfer to reduce scars.
Contact Las Vegas Board Certified Plastic Surgeon Dr. Richards to Schedule a Consultation
If you would like more information on cosmetic surgery procedures and treatments performed by Las Vegas, Nevada plastic surgeon, Dr. Bryson Richards please contact us at 702.870.7070
Taking new patients from Las Vegas, Bullhead City,  Laughlin, Pahrump, Mesquite NV and surrounding areas.