COSMETIC FACIAL SURGERY OPTIONS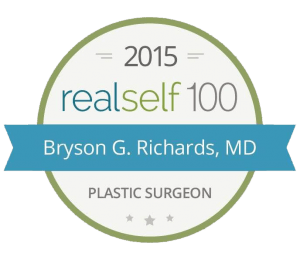 Cosmetic facial surgery procedures have become increasingly popular over the last decade, as innovations in this field have allowed for a reduction in the length of post-operative recovery periods, and enabled plastic surgeons to create more natural-looking results with a lowered risk of potential complications.
Men and women are motivated to seek out facial surgery for a number of different reasons. Some patients seek to correct damage to the facial region caused by the environment, smoking, injury, sun exposure, stress, or the natural aging process, while others wish to enhance the appearance of a specific facial feature that they are dissatisfied with.* Although the field of cosmetic facial surgery has evolved significantly, the one factor that has remained constant is the paramount importance of selecting the right plastic surgeon to perform these services.
At the private plastic surgery practice of Dr. Bryson Richards, located in Las Vegas, Nevada, Dr. Richards takes pride in customizing each facial surgery to produce results that are natural, beautiful, and proportionally balanced with the adjacent facial structures. Dr. Richards is committed to keeping up with the latest technological advances in the field of facial surgery, and has furnished his office with state-of-the-art equipment to ensure the best possible surgical outcomes in a discreet, tranquil environment.*
We are pleased to offer a wide variety of safe and effective cosmetic facial surgery options, which can be customized to fulfill the specific aesthetic goals of each patient:
During your initial consultation, Dr. Richards will perform a comprehensive clinical evaluation to assess your current state of health, medical history, and aesthetic goals, in order to create a uniquely customized facial rejuvenation treatment plan.Dr. Richards and his professional staff will also provide you with a clear, detailed list of pre- and post-operative instructions that are designed to minimize the risk of complications and facilitate a comfortable, swift recovery after your facial surgery.
Simply reading a description of a particular facial surgery is often an insufficient measure when it comes to envisioning exactly what you will look like after undergoing the procedure. For this reason, Dr. Richards has equipped his office with the Crisalix™ Visual Aesthetics system, a state-of-the-art computer program capable of transforming 2D standard pictures into a 3D simulation. By creating an accurate depiction of your potential results, Crisalix™ can help you to:
Present your facial surgery goals in a clear, accurate way
Select the facial surgery procedure and (when appropriate) ancillary procedures (i.e. Botox, dermal fillers, etc.) to effectively fulfill your cosmetic objectives
Feel completely confident and comfortable going into surgery
*Results are not guaranteed or guaranteed to be permanent.
CONTACT DR. RICHARDS
Dr. Richards makes it a priority to spend ample time with each patient, and to be highly accessible to his patients during every phase of their aesthetic enhancement experience. If you have questions concerning a specific facial surgery procedure, or about cosmetic facial surgery in general, please contact the our office today. We look forward to speaking with you, and to scheduling your initial consultation with Dr. Richards.