FACELIFT PLASTIC SURGERY (RHYTIDECTOMY) | LAS VEGAS
Because of its delicate composition, your face is particularly vulnerable to the damaging effects of the natural aging process and various environmental elements (i.e. UV exposure from the sun). *Facelift surgery (see before and after photos) is performed as a way to reduce many of the visible signs of facial aging, which may include:
Prominent lines or creases along the nasolabial folds ("laugh lines")
Facial ptosis—sagging, loose, or hanging facial skin
Displaced fat deposits or fat pockets
The appearance of a "double chin" or "jowls"caused by a loss of muscle tone, fat deposits, or loose skin
Fine lines or wrinkles in the orbital area, beneath the lower eyelids
Facelift surgery works to lift and tighten the underlying facial tissues and musculature, while simultaneously excising surplus fat and removing any sagging or loose skin. Facelift techniques have undergone dramatic advancements over the past decade, which have improved upon the flaws of older techniques and allowed plastic surgeons to produce more naturally beautiful results. Older facelift procedures utilized horizontal pulling techniques to tighten the skin at the surface level; however, modern techniques allow plastic surgeons to lift the facial tissues from a deeper level, and to lift upward in a vertical direction, thereby avoiding the unnatural "windswept" or excessively tight, "pinched" appearance.*
At the private plastic surgery practice of Dr. Bryson Richards, located in Las Vegas, Nevada, Dr. Richards employs a modern facial rejuvenation approach that utilizes cutting edge surgical techniques to produce exceptional results for his patients. By incorporating modern techniques, Dr. Richards is able to effectively address all age-related three-dimensional changes of the face, while avoiding the facial distortions associated with previous methods.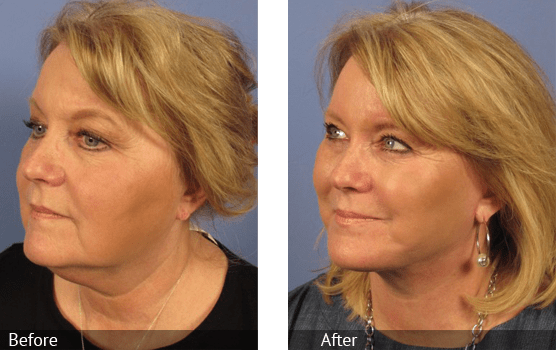 *Results are not guaranteed or guaranteed to be permanent.
FACELIFT OPTIONS AND PROCEDURAL DETAILS
During your initial consultation, Dr. Richards will perform a comprehensive analysis of your facial anatomy and aging pattern in order to create a custom-tailored facial rejuvenation treatment plan. Facelift surgery is performed under IV sedation or general anesthesia, and typically takes between 2-5 hours—the exact timing is dependent upon whether or not ancillary procedures (i.e. neck lift, facial fat grafting) are executed at the same time.
Your facelift will begin with incisions that are carefully placed in front of and behind your ear, so as to avoid detection. If necessary, Dr. Richards will then perform liposuction of the face and jowls, before tightening your facial musculature and repositioning (or removing) any loose, hanging skin.
For patients who present with jowls, a double chin, or sagging/loose skin in the neck region, Dr. Richards may recommend a neck lift be performed in conjunction with the facelift surgery. Similarly, for patients who would benefit from volume restoration in depleted facial areas (commonly the temples or cheeks) Dr. Richards may recommend a facial fat transfer as an ancillary procedure. Facial fat transfer (fat grafting) involves harvesting fat from a donor site (i.e. abdomen, thighs) and transferring the fat to the temples, cheeks, or any other facial area in need of enhanced volume.
After your facelift procedure, you can expect to experience some degree of facial swelling and bruising, which typically peaks during the first 24-48 hours. It is helpful to keep your head elevated as much as possible during this time. While the majority of facial bruising should subside within two weeks, swelling may take an additional 1-2 weeks to completely abate. Dr. Richards will be available to you throughout the duration of your recovery period, should you have any concerns or questions.
CONTACT DR. RICHARDS
Dr. Richards understands the potentially damaging impact that dissatisfaction with your facial appearance can have on your self-esteem.  His treatment philosophy is based upon the foundational principle of individualized customization, which translates to:  in-depth consultations, treatment plans that have been tailored to meet your specific needs, and comprehensive patient education, both before and after your facelift procedure.
Dr. Richards makes it a priority to spend ample time with each patient, and to be highly accessible to his patients during every phase of their facial rejuvenation experience. If you would like to enhance the appearance of your face, or if you have additional questions about facelift surgery, please contact the our office today. We look forward to speaking with you, and to setting up your initial consultation with Dr. Richards.