Kybella®: the only injectable treatment for your double chin!
As we age, we begin to see many small changes to our face and body that, over time, can undermine our appearance of youth and natural vitality. While we cannot stave off the signs of aging forever, many of the signs of getting older can be mitigated, at least, with excellent skin care routines, a healthy diet, and active exercise routine. Yet unfortunately, one of the most visible changes to our facial contours—the accumulation of excess fat under the chin, also known as "submental fullness", "submental fat", or simply "a double chin"—is the least resistant to reduction through a healthy lifestyle.*
Until just recently, the only way to address a double chin was through liposuction. But today, there is an alternative to surgical liposuction: the first ever injectable treatment designed specifically to reduce the appearance of the double chin! Kybella® can reduce* the unwanted fat cells causing your double chin in order to restore your shapely, sculpted jaw line and chin. Board certified plastic surgeon Dr. Bryson Richards is pleased to now offer this revolutionary rejuvenation option at his private surgical practice in Las Vegas, NV in order to help you minimize the appearance of a double chin and enhance your naturally-beautiful facial contours!*
Benefits of Kybella® for Submental (Under Chin) Fullness*
Kybella® targets the accumulation of excess fatty tissue at the root of your double chin. Kybella® is the only injectable treatment approved by the FDA for the treatment of submental fullness. It can:
Restore a youthfully sleek, contoured chin and jawline*

Reduce the appearance of excess fat cells under the chin reduce* and safely*

Requires only about 15-20 minutes per treatment

Does not require anesthesia (some patients may feel more comfortable with topical anesthesia)

Does not require any downtime: patients can return to normal activities immediately

Optimal results require a series of 2-4 treatments spaced 6 weeks apart*
*Results are not guaranteed or guaranteed to be permanent.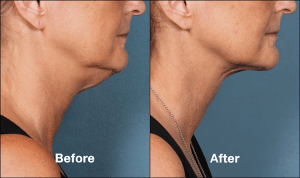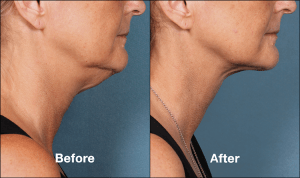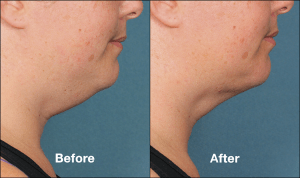 * Results are not guaranteed or guaranteed to be permanent.
How Kybella® Works
Kybella® is an injectable treatment composed of a precise formulation of prescription-strength deoxycholic acid, a naturally-occurring substance designed to remove dietary fat. When deoxycholic acid, in the form of Kybella®, is injected directly into the unwanted fat cells underneath the chin, it destroys the membranes of the cells, causing them to burst. The burst cells are then painlessly and comfortably reabsorbed through your body's natural metabolism.*
Kybella® is administered in the comfort of our office in about 15-20 minutes. Application of a topical numbing cream before the treatment allows for a comfortable experience.  The treatment involves multiple injections spaced about 1cm apart, utilizing an extremely small needle. Most patients can return to their normal daily activities immediately after the treatment. Optimal results require a series of four to six treatments, spaced one month apart.*    
*Individual results may vary. Fat cells destroyed by Kybella® injections cannot return; however, remaining fatty tissue in the chin may continue to grow and expand over time. 
*Results are not guaranteed or guaranteed to be permanent.
Contact Dr. Richards
Dr. Richards understands that every patient has unique medical needs and aesthetic preferences, which is why his treatment philosophy is based upon the foundational principle of individualized customization. In practice, this concept amounts to in-depth consultations, treatment plans that have been tailored to meet your specific needs, and comprehensive patient education, both before and after your skin rejuvenation treatment.
Dr. Richards makes it a priority to spend ample time with each cosmetic surgery patient, and to be highly accessible to his patients during every phase of their aesthetic enhancement experience. If you have questions about the benefits of injectable Kybella® for your double chin, or about our skin rejuvenation treatments in general, please contact our office today. We look forward to speaking with you!