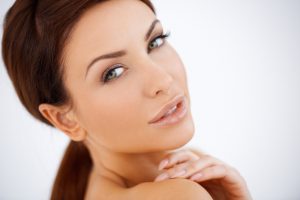 Belotero is an FDA approved facial filler injection to volumize the sagging areas of the face and reduce the aging lines without involving cosmetic surgery. During the initial consultation, the dermal filler expert will discuss all aspects of the procedure and may also present Belotero facial filler before and after photographs.
The surgeon's first goal will be to educate the patient about the pros and cons of Belotero injections and help them make an informed decision. Remarkable, prudent, and board certified plastic surgeon Dr. Bryson Richards provides Belotero facial filler to patients in Las Vegas, NV and surrounding locations in The Battle Born State.
What are Belotero Before and After Pictures?
Before and after pictures in case of Belotero dermal filler refer to a pair or group of images pertaining to a previous patient who has received the same procedure with satisfactory results. The images include pictures taken prior to the procedure and after the procedure at a stage when the post-treatment redness and swelling has been resolved and full anti-aging effects of the filler gel are visible.
The surgeon will take care to obtain these photographs with the consent of the patient and will show them to new patients in an appropriate manner. The patient's identity may be kept undisclosed as per the standard protocol. The only purpose of the injection provider here is to use the photos as a visual aid to explain the potential effectiveness of Belotero treatment to new patients.
Advantages
When an individual is considering a non-surgical procedure such as Belotero facial filler injections, they may be unsure about the outcome because it involves no plastic surgery. Some patients may need only a subtle improvement in the aging lines in order to maintain a natural look, while some others may need a more extensive treatment for dramatic results.
In some cases, the injection provider may recommend Belotero injections in conjunction with another procedure such as Botox for more uniform looking results. In each situation, the patient will be better placed to make the right decisions when they have access to Belotero dermal filler before and after photos.
None of this would be possible without the advent of digital technology. Digital technology has shaken industries to their core. The possibilities with digital technology seem to be evolving every year that goes by. The plastic surgery industry, just like the marketing one, auto, retail, academic, construction, and so on have used this technology in so many noteworthy ways.
Now patients can see amazing pictures without notifying anyone. This is not something that was possible even twenty years, not even ten years ago in a way that it can be done now. Now with so many people have large and incredible smart phones, patients can make salient decisions from the sidewalk in front of their home to a coffee shop booth. Even if a patient does not have a large smart phone, they can see these pictures using a computer from their home or even their friend's home.
This means that a patient can be armed with more knowledge than ever before.
Keeping Realistic Expectations
A responsible and transparent provider may often like to present Belotero filler before and after photos at the outset to let the patient understand clearly what to expect and what not to expect from the results. This will minimize the risk of any disappointment occurring later on. If they are not on the website for a specific type of service, a patient can see these types of pictures during the consultation. There are a plenitude of injectable type before and after pictures on Dr. Richard's site though.
The patient should take the time to review as many before and after photos as possible, and have complete clarity in their mind about what the treatment can or cannot do for them. They should be aware that Belotero results will only last for a few months, and the facial skin will return to its original appearance once the filler gel disintegrates in the skin. Patients with realistic expectations typically achieve higher satisfaction levels in the end.
The treatment provider may also present Belotero filler before and after photos on their practice website which this website dedicates a decent portion to services of this kind related to injectables. Reliable and considerate cosmetic surgeon Dr. Bryson Richards receives patients from Las Vegas, NV and nearby areas for Belotero treatment.
If you would like more information on cosmetic surgery procedures and treatments performed by Las Vegas, Nevada plastic surgeon, Dr. Bryson Richards please contact us at 702.870.7070
Taking new patients from Las Vegas, Bullhead City,  Laughlin, Pahrump, Mesquite NV and surrounding areas.