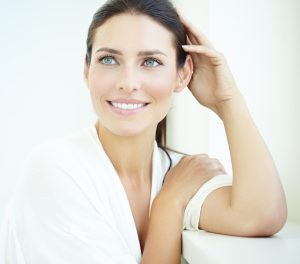 VI Peel is an advanced and innovative skin rejuvenation procedure designed for people who want to avoid cosmetic surgery, but are interested in non-surgical solutions to revitalize the skin. VI Peel is uniquely formulated as a medium strength peel for minimally invasive skin rejuvenation treatment.
VI Peel is well-suited for people seeking to delay or minimize the early signs of aging and sun damage. Patients in Las Vegas, NV and surrounding locations have an opportunity to receive VI Peel treatment from board certified plastic surgeon Dr. Bryson Richards.  
Highlights
Some of the key features of VI Peel that make it a popular procedure among people who are looking for alternatives to plastic surgery include:
Rebuilds depleted collagen to volumize and rejuvenate the skin

Treats meslasma and fine lines

Appropriate for all skin types, including dark skin

Social downtime involved is only three to four days

Ideal during fall, spring, winter seasons
To achieve best outcomes, the patient should avoid extreme sun exposure for at least three weeks following VI Peel treatment. The treatment combines five critical acids that will gently remove the topmost layer of damaged, aging skin to reveal new and healthy skin. At the same time, the procedure will trigger fresh production of collagen to create more natural looking and sustainable results.
Distinguishing Features
The VI Peel distinguishes itself from traditional chemical peels because it can create desirable anti-aging effects without the discomfort and prolonged downtime. Five rejuvenating acides in this medium depth peel include TCA, Retin-A, Salicylic Acid, Phenol, and Vitamin C.
These acids will work in combination to produce highly effective outcomes. New collagen fibers will fill the depressions and creases in the skin to create a smoother, more youthful skin appearance. The advanced formulation of VI Peel includes a numbing agent, which will help ensure that the patient goes through minimal discomfort during the procedure.
The treatment is ideal for people who want to restore an even, smooth and healthy skin tone as well as smooth away dry, rough or damaged skin without surgery. Experienced cosmetic surgeon Dr. Richards provides VI Peel to patients in Las Vegas, NV and nearby areas.
How does it Work?
Each VI Peel treatment is customized according to the specific skin type and tone of a patient as well as to match with their personal cosmetic goals. The patient will be required to follow the pre- and post-treatment instructions of the specialist in order to achieve safe and desirable outcomes.
The treatment session will last for about 30 to 45 minutes, and will be performed in the comfort of the provider's office. During the initial application, a minor tingling or stinging sensation may be experienced by a few patients, but it will dissipate quickly. Patients can return home after the treatment, but the peel must remain on the skin for at least four hours.
After the four-hour period, the patient can simply wash off the peel and apply any aftercare products provided by the specialist. In the first one or two days, the patient should avoid doing strenuous activities or exercises, and they can expect a social downtime of about three to four days.
If you would like more information on cosmetic surgery procedures and treatments performed by Las Vegas, Nevada plastic surgeon, Dr. Bryson Richards please contact us at 702.870.7070
Taking new patients from Las Vegas, Bullhead City,  Laughlin, Pahrump, Mesquite NV and surrounding areas.