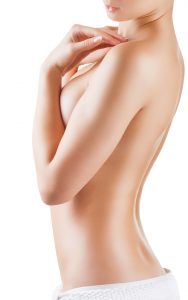 After liposuction plastic surgery, the new body shape will be more or less permanent. In case the patient gains a moderate amount of weight after the procedure, their body shape will merely become a slightly larger version of their post-liposuction appearance.
Board certified plastic surgeon Dr. Bryson Richards provides liposuction body contouring to patients in Las Vegas, NV, and surrounding locations.
Pregnancy Effects after Liposuction Surgery
Some women may wonder about the impact of a future pregnancy on their liposuction outcomes. Patients can generally feel assured that pregnancy will not permanently alter the body contouring outcomes achieved with liposuction.
If a woman undergoes liposuction, and later becomes pregnant and gains weight, but loses the weight after childbirth, her original liposuction results will return. For many patients, it will appear as if they have not undergone a post-liposuction pregnancy at all.
However, it is important for female liposuction candidates to understand that their goal should be to receive a plastic surgery procedure when they do not intend to become pregnant afterwards.
Pregnancy can lead to the development of stretch marks, cellulite, and sagging skin in the breast, thigh, abdominal, and buttock areas. These aesthetic concerns are unrelated to liposuction.
Liposuction cosmetic surgery aids fat reduction and contours the body, which enhances the patient's overall figure. But it is not meant to improve skin texture, remove stretch marks or cellulite, or tighten loose skin.
Liposuction after Final Pregnancy
Multiple pregnancies can lead to the development of stubborn fatty deposits in the abdominal region. If a woman chooses to receive liposuction after her final pregnancy, she can anticipate dramatic enhancements in the shape of her abdomen.
Patients can sometimes avoid the more invasive abdominoplasty (tummy tuck) procedure and achieve a more toned and flatter abdomen with liposuction after their final pregnancy.  
Permanent Reduction in Fat Cells
Liposuction plastic surgery eliminates fat cells, and these cells cannot come back once they are eliminated. In general, the body does not produce new fat cells after puberty, even if the individual gains a moderate amount of weight. This means that the fat cells eliminated with liposuction will be gone for good.
The patient can permanently enjoy her new, slimmer figure permanently achieved with liposuction if she does not gain a significant amount of weight after pregnancy.
However, it is vital to note that the fat cells that remain in the treated area after liposuction can accumulate more fat and grow bigger in size if the patient gains substantial amounts of weight.
In addition, the aging process can bring about normal changes in the body shape over the years. But the patient can be assured that the aesthetic benefits of liposuction will always be apparent as long as they follow a healthy lifestyle and exercise regimen.  
When do the Results become Visible?
Most patients will be able to achieve 90 percent of their final liposuction outcomes in around three months following the procedure. The post-operative swelling will subside slowly over many months depending on the extent of the procedure and the liposuction technique used.
Once the swelling subsides completely, the full outcomes of the liposuction surgery will become visible. Cosmetic surgeon Dr. Bryson Richards receives patients from Las Vegas, NV, and nearby areas for liposuction.
If you would like more information on cosmetic surgery procedures and treatments performed by Las Vegas, Nevada plastic surgeon, Dr. Bryson Richards please contact us at 702.870.7070
Taking new patients from Las Vegas, Bullhead City,  Laughlin, Pahrump, Mesquite NV and surrounding areas.