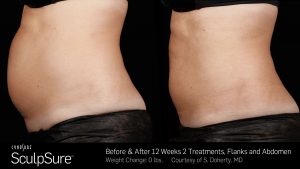 SculpSure is an FDA cleared, laser based body contouring procedure designed to reduce stubborn fat pockets from targeted areas. The procedure is ideally suited for candidates who want to avoid liposuction cosmetic surgery.
The treatment provider will explain various aspects of the procedure to the patient during the pre-operative consultation.
Some providers may also present SculpSure non-invasive body contouring before and after photographs during the consultation. This will enable the patient to have a better idea of the potential effectiveness of this fat reduction procedure. Prudent, spectacular, and board certified plastic surgeon Dr. Bryson Richards provides SculpSure to patients in Las Vegas, NV, and other communities and suburbs in this part of southeastern section of the state.
What are SculpSure Before and After Images?
Before and after images in case of SculpSure body contouring refer to a set of pictures pertaining to a previous patient who has received the same procedure successfully. The set includes images taken prior to the procedure and after the procedure at a stage when full effects of the fat reduction treatment have appeared.
Just as in case of a plastic surgery procedure, the provider will ensure that the photographs are taken with the consent of the patient, and shown to new patients in a discreet way. The patient's identity may be kept confidential as per the standard protocol.
The only goal of the surgeon here is to educate new patients about various aspects of the surgery with the help of these pictures. SculpSure 'before and after' photos serve as a visual aid to help the new patient make an informed decision.
Benefits
When a patient is considering SculpSure non-invasive fat reduction procedure, they may only have a limited understanding of how far it can improve their body contours. Some patients may want to be sure whether this non-surgical option will meet their personal cosmetic goals.
A patient may need SculpSure only in a single area, while another may require significant fat reduction in multiple areas of the body. In each case, the patient will be in a better position to make a correct decision when they have access to SculpSure before and after photos.
Now this will be mentioned again down below and solidified but there is no reason to wait any longer to explain what is really happening here. What is going on here is that plastic surgeons are utilizing the World Wide Web and digital technology to the utmost degree. There is nothing wrong with this, what industry is not? The digital world has opened up entire new playbooks for plastic surgeons in terms of marketing.
Now a patient can make a salient decision without anyone else being the wiser. They do not have to let their friends or family know they are contemplating this and they do not even have to let their car know since they do not have to drive anywhere. Well, unless they do not have Internet at their home or their work which is unlikely. But any patient and check out these golden pictures from anywhere, even from their closest coffee shop.
And it is so easy for the surgeon's clinic to upload these pictures to their website after they have the patient's consent of course. It is a win-win for everyone.
Reasonable Expectations
In a procedure such as SculpSure body contouring, patients who have a positive outlook, clear aesthetic goals and realistic expectations will typically achieve higher satisfaction levels in the end. The treatment provider will try to ensure that the patient knows exactly what the procedure can or cannot do for them before going ahead with it.
SculpSure before and after photos be prove to be an effective visual aid in this process. The provider can present these photos at the outset, so that there is completely transparency and no confusion or misunderstanding. Patients with realistic expectations often appreciate the final results in a better way and have minimal risk of facing any disappointment.
Photos on the Web
The provider has an option to provide SculpSure before and after photos in digital format on their practice website which is offered here. New patients can simply access the photos on the website and review the potential effectiveness of the procedure and this is why Dr. Richards provides this cutting edge option on his website as just mentioned. Accomplished and pragmatic cosmetic surgeon Dr. Richards receives patients from Las Vegas, NV, and nearby areas for SculpSure.
If you would like more information on cosmetic surgery procedures and treatments performed by Las Vegas, Nevada plastic surgeon, Dr. Bryson Richards please contact us at 702.870.7070
Taking new patients from Las Vegas, Bullhead City,  Laughlin, Pahrump, Mesquite NV and surrounding areas.