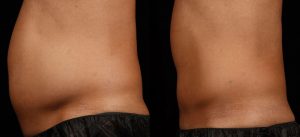 SculpSure is the world's first FDA cleared laser treatment for non-invasive lipolysis of the abdomen, back, buttocks, upper arms, inner thighs, and outer thighs. It is also an effective way to reduce bulging fat around the flanks or love handles.
Patients who want to avoid cosmetic surgery may choose this state of the art and highly precise light based technology to get rid of stubborn fat in the love handles.
SculpSure laser device has a flat, non-suction applicator design, which can create more consistent and uniform looking fat reduction results in the love handles area. The procedure can be customized according to the amount of fat tissue and skin elasticity in the flanks. Committed, perspicacious, and board certified plastic surgeon Dr. Bryson Richards provides SculpSure treatment to patients in Las Vegas, NV, and surrounding communities in this geographical region of the country.
Candidacy
SculpSure is an ideal laser-based technique to gently remove unwanted fat from the love handles. At the time of pre-op consultation, the surgeon will evaluate the patient's fitness for SculpSure and explain its benefits and limitations in comparison to plastic surgery.
Fantastic and solid candidates for SculpSure are healthy adults who are unhappy with the appearance of bulging fat in the flanks or love handles area, but want to choose a non-surgical treatment option. An ideal candidate would be prepared to maintain a balanced diet and a regular fitness regimen to enjoy the benefits of SculpSure for a long time.
Patients should know that SculpSure is not a weight loss procedure, but only meant to sculpt the flanks and certain other fat tissue pockets in the body. Pregnant women and people with certain medical conditions may have to avoid SculpSure procedure.
Laser Technology
SculpSure involves an advanced laser technology to deliver laser beams in a safe and controlled manner. The laser energy is delivered through applicators that have a flat and non-suction design. As a result, the provider can create more uniform fat reduction throughout the flanks area.
With an efficient attachment system of up to four applicators, this customizable procedure will help melt away unwanted fat cells in the back and other areas. Patients can expect to attain more defined and smoother shape of the love handles. Laser energy is precisely delivered, and does not cause harm to surrounding healthy tissue.
Comfort and Convenience
SculpSure treatment for love handles is well-tolerated due to the hands-free technology. The procedure is designed to remove targeted fat cells in waves of hot and cool temperatures. These alternating patterns allow the patient to go through the treatment session in a comfortable way, requiring no local or topical anesthetic.
The procedure can be performed in-office, and most patients will not require any post-treatment downtime. The sculpting results in the love handles will emerge gradually as the destroyed fat cells are flushed out of the body through the lymphatic system. Most patients will achieve their desired fat eliminate in two to three treatment sessions spread over a few months.
Patients in Las Vegas, NV, and other communities and suburbs in The Sagebrush State have an opportunity to receive SculpSure procedure from the righteous cosmetic surgeon Dr. Richards.
If you would like more information on cosmetic surgery procedures and treatments performed by Las Vegas, Nevada plastic surgeon, Dr. Bryson Richards please contact us at 702.870.7070
Taking new patients from Las Vegas, Bullhead City,  Laughlin, Pahrump, Mesquite NV and surrounding areas.