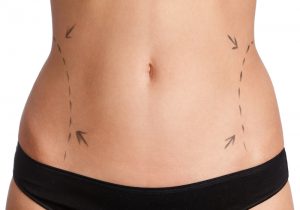 It is a major accomplishment to lose a substantial amount of weight (100 pounds or more) with gastric bypass surgery or through diet and exercise. It is beneficial to a person's health, perspective on life, and appearance. 
But many individuals who have accomplished significant weight loss may be left with large amount of loose, heavy folds of skin around the arms, abdomen, buttocks, thighs, breasts, and face. The skin may sag and lose elasticity as a consequent of being stretched for a long duration of time. 
Following a big weight loss, the skin is typically unable to shrink back to its previous shape and size. Body contouring cosmetic surgery is a safe and effective way to eliminate excess skin and restore a firmer, youthful appearance. Board certified plastic surgeon Dr. Bryson Richards provides body contouring to patients in Las Vegas, NV, and surrounding locations.
What areas are treated with body contouring surgery?
The below mentioned body areas are usually addressed through body contouring after significant weight loss. The surgeon will work with the patient to determine the sites that are most bothersome or problematic to the patient.
Abdomen: Abdominoplasty, also called a "tummy tuck," involves the removal of excess skin and tightening the underlying abdominal muscles. The surgeon will place an incision right above the pubic area from hip to hip, occasionally extending to the back. It may also be necessary to place a vertical incision at times.
Buttocks/Upper Thighs: A belt lipectomy, or body lift, refers to a procedure to eliminate skin as well as lift the buttocks and thighs. This is typically undertaken as a combination of an abdominal procedure. The incision is placed in the belt area in the upper hips and excess skin is eliminated beneath the incision.
Thighs: A medial thigh lift is meant to eliminate excess skin from the upper leg. This procedure involves placing an incision along the inner thigh starting at the groin and going as far as the knee.
Breasts: Various breast procedures are available to patients, including breast lift with or without augmentation (enlargement using implants) and breast reduction. The incisions can be placed vertically down the center of the breast to eliminate excess skin. At times, incisions are made beneath the breast in the shape of an upside-down "T."
Arms: In this plastic surgery to eliminate excess skin from the arm (brachioplasty), the surgeon will place in incision starting at the armpit and going down to the elbow. At times, this procedure can be performed in combination with a breast procedure.
Face and neck: Eliminating excess skin around the face or neck following weight loss is similar to a traditional facelift, except that more skin is eliminated. Consequently, the incisions must be planned very cautiously. The incision initiates in the front of the ear and curves around the ear before extending into the hairline.
Should You Undergo Body Contouring Plastic Surgery After Gastric Bypass?
Ideal candidates for body contouring cosmetic surgery after weight loss through gastric bypass have the following characteristics:
Stable weight

Good overall health

Non-smoker

Positive mindset and reasonable expectations from the outcomes

Committed to good nutrition, fitness, and an overall healthy lifestyle
In case a woman intends to become pregnant, it's a salient idea to wait until she has had children prior to undergoing any of these cosmetics surgeries after weight loss. 
Cosmetic surgeon Dr. Bryson Richards receives patients from Las Vegas, NV, and nearby areas for body contouring.
If you would like more information on cosmetic surgery procedures and treatments performed by Las Vegas, Nevada plastic surgeon, Dr. Bryson Richards please contact us at 702.870.7070
Taking new patients from Las Vegas, Bullhead City,  Laughlin, Pahrump, Mesquite NV and surrounding areas.