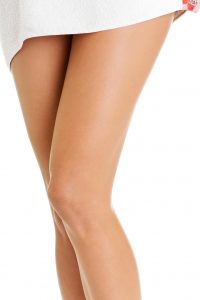 Laser hair removal is a safe and effective way to get rid of undesirable hair on the body and face without involving cosmetic surgery. At the time of initial consultation, the laser treatment provider will explain various steps involved in the laser hair removal process.
Multiple treatment sessions are usually required to reduce all the targeted hair from various areas. The treatment is performed conveniently as an in-office procedure, and involves little to no downtime. Board certified and remarkable plastic surgeon Dr. Bryson Richards provides laser hair removal to patients in Las Vegas, NV and surrounding communities in this part of the Southwest.
Key Steps
The first step in laser hair removal begins a few days prior to the actual treatment. The patient is required to shave the areas to be treated a few days in advance. Close to the day of the procedure, the patient should refrain from using razor. Waxing or hair removal lotions should be particularly avoided during this pre-treatment phase as well as in-between two treatment sessions.
Unlike most plastic surgery procedures, laser hair removal can be performed without the need for sedation or strong anesthesia. On the day of the procedure, a local anesthetic cream may be applied, but this step is not essential in all cases. The treatment provider may use a spray, gel or a cool laser tip to make the treatment experience more comfortable, depending on the type of laser to be used.
The patient as well as the laser hair removal expert will be required to wear special glasses that are designed filter out harmful light during the procedure. The laser device will be adjusted to match with the patient's unique needs. The provider may use the laser first on a few test spots to optimize the power, size and pulse frequency for safe and effective results.
A hand-held laser device is then precisely focused on the unwanted hair follicles. The duration of the treatment session will depend on the extent of hair to be removed and the surface area involved. Most patients report little to no discomfort during the laser hair removal treatment.
Multiple Treatment Sessions
While laser facial hair removal involves more sensitive skin sites, laser body hair removal usually involves a larger surface area. Multiple treatment sessions are often necessary to achieve effective hair removal. The hairs in different areas will grow at different rates, and some hairs may be in a resting cycle while others are in their growth phase.
Therefore, multiple treatments become necessary to treat the hairs with laser in their growth cycles. Each treatment session may be spaced about four to six weeks apart. Fabulous and astute cosmetic surgeon Dr. Richards receives patients from Las Vegas, NV and nearby areas for laser hair removal.
After the Treatment
Mild redness and swelling may occur in the laser treated sites, but these symptoms will mostly dissipate in about 24 hours. Ice therapy, aloe gels, or anti-inflammatory creams may be applied as per the treatment provider's advice. Sun exposure in the treated areas must be strictly avoided between treatments to achieve safe and desirable outcomes.
If you would like more information on cosmetic surgery procedures and treatments performed by Las Vegas, Nevada plastic surgeon, Dr. Bryson Richards please contact us at 702.870.7070
Taking new patients from Las Vegas, Bullhead City,  Laughlin, Pahrump, Mesquite NV and surrounding areas.