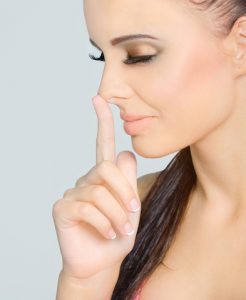 Rhinoplasty or nose reshaping surgery ranks among the top five most popular cosmetic surgery procedures in the US today. Even a subtle change to the nose can make a magnified impact on the overall appearance of the face. Therefore, the procedure should only be performed by a surgeon who understands the nuances of rhinoplasty.
Dr. Bryson Richards is a pre-eminent plastic surgeon providing rhinoplasty and various other procedures of the breast, body and face. Dr. Richards will employ cutting edge surgical techniques to achieve safe, healthy and aesthetically appealing results with rhinoplasty. He receives patients from Las Vegas, NV and surrounding communities.
Combining Art and Science
Dr. Richards believes that every plastic surgery procedure must incorporate the principles of both art and science in order to achieve consummate results. This is particularly true of intricate facial procedures such as rhinoplasty. Using the artistic principles and aided by advanced surgical technology and techniques, Dr. Richards is able to sculpt the nose in a desirable way so as to meet the patient's aesthetic expectations.
At the same time, he ensures that the scientific principles and best surgical practices are not compromised because of the aesthetic enhancement. Health and safety of the patient remains a top priority. Dr. Richards adopts an approach to conserve the tissue as far as possible, involve minimal cuts and incisions, and create results that are health promoting, sustainable and natural looking.
Maintaining Balance
Rhinoplasty procedure cannot be performed in isolation. An experienced cosmetic surgeon will prepare a nose reshaping surgical plan in context of other facial structures. For instance, if the nose appearance becomes more prominent, it should not undermine the existing appearance of the chin, and vice versa. All facial features must appear in natural harmony to each other after rhinoplasty.
Therefore, it is vital that nose surgery should only be performed by a highly trained and skillful rhinoplasty surgeon with a deep understanding of facial anatomy and aesthetics. Dr. Richards makes use of his in-depth knowledge of the complex facial structures and advanced clinical skill set to improve facial balance and proportion with rhinoplasty. He provides this procedure to patients in Las Vegas, NV and nearby locations.
Awards and Honors
In recognition of his contributions to the field of plastic surgery, Dr. Richards has won several honors and awards, which include:
Joseph M. Serletti, MD, Resident Research Award, 2013 – For Excellence in Academic Plastic Surgery at URMC
Senior Top Gun Award, 2012 – Overall highest score on plastic surgery in-service of plastic surgery residents at URMC.
Junior Top Gun Award, 2011 – Highest score on plastic surgery in-service exam at junior level among plastic surgery residents at URMC.
Phi Kappa Phi, 2004 – Undergraduate honors society
Omicron Delta Epsilon, 2004 – International Economics Honors Society
Academic Background
Dr. Richards graduated from Cornell Medical School in New York City and was the chief plastic surgery resident at Strong Memorial Hospital in Rochester, NY. He received advanced training in cosmetic and plastic surgery at the leading Cleveland Clinic. Over the years, a number of surgical societies and organizations have invited Dr. Richards to speak at national meetings and share his expertise with other plastic surgeons.
If you would like more information on cosmetic surgery procedures and treatments performed by Las Vegas, Nevada plastic surgeon, Dr. Bryson Richards please contact us at 702.870.7070