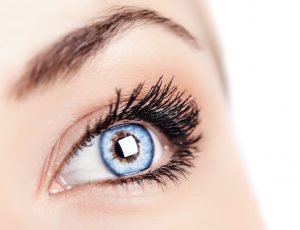 Eyelid surgery, clinically called blepharoplasty, is a cosmetic surgery procedure designed to reduce excess skin and fat around the lower and upper eyelids, and restore a rejuvenated eye appearance. Eyes are the most delicate external organ, which makes it important to have any procedure related to the eyes performed by a fully trained and qualified surgeon.
Leading plastic surgeon Dr. Bryson Richards provides eyelid surgery in a state of the art surgical environment. Dr. Richards will customize the surgery according to the patient's unique eye anatomy and their personal aesthetic needs. He provides eyelid surgery and other procedures to patients in Las Vegas, NV and surrounding communities.
Personalized Care
Dr. Richards is personally involved with every intricate plastic surgery procedure such as eyelid surgery. He ensures that every patient receives his personalized care and attention at all stages of the procedure. He will have an in-depth pre-op consultation, where he encourages the patient to share all their concerns and doubts, and addresses them to their complete satisfaction.
When preparing the surgical plan for eyelid surgery, Dr. Richards will engage closely with the patient and tailor the plan to meet their specific goals. He will take out time to educate the patient comprehensively about the treatment choices available to them in eyelid surgery. Even after the procedure, he will instruct the patient about their recovery process to ensure safe and best results.
Expertise in Eyelid Surgery
Dr. Richards has the necessary training and experience as a cosmetic surgeon to perform eyelid lift procedures with outstanding results. His goal is to keep the procedure minimally invasive and achieve optimal outcomes in a targeted manner. This approach allows him to place smaller incisions in discreet locations, minimize scarring, minimize pain and discomfort, and reduce the downtime involved.
Dr. Richards may recommend lower or upper blepharoplasty, depending on the patient's condition. In some cases, he may recommend a combination of both for more comprehensive results. If the patient does not have the problem of loose or sagging skin over the eyelids, he may perform a less invasive procedure called transconjunctival blepharoplasty. He receives patients from all over Las Vegas, NV and nearby areas for eyelid surgery.
Award-Winning Surgeon
Over the course of his plastic surgery training and experience, Dr. Richards has been the recipient of a number of awards and honors, which include:
Joseph M. Serletti, MD, Resident Research Award, 2013 – For Excellence in Academic Plastic Surgery at URMC
Senior Top Gun Award, 2012 – Overall highest score on plastic surgery in-service of plastic surgery residents at URMC.
Junior Top Gun Award, 2011 – Highest score on plastic surgery in-service exam at junior level among plastic surgery residents at URMC.
Phi Kappa Phi, 2004 – Undergraduate honors society
Omicron Delta Epsilon, 2004 – International Economics Honors Society
Publications
Dr. Richards wrote a paper to describe an innovative surgical technique to reduce post-operative pain in breast augmentation surgery. The paper was published in the eminent Aesthetic Surgery Journal, and has been cited in other articles on breast surgery. Dr. Richards also earned the top resident research award for analyzing data to find patterns that would improve patient care.
If you would like more information on cosmetic surgery procedures and treatments performed by Las Vegas, Nevada plastic surgeon, Dr. Bryson Richards please contact us at 702.870.7070