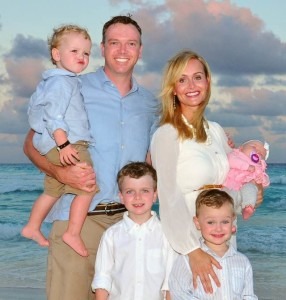 Dr. Bryson Richards is an experienced plastic surgeon providing state of the art reconstructive and cosmetic surgery procedures to patients in Las Vegas and the surrounding area. Dr. Richards also addresses the aesthetic needs of patients who are either unwilling or unable to receive plastic surgery procedures, and offers a range of innovative non-surgical solutions for them.
Education and Training
Dr. Richards received advanced training as a cosmetic surgeon at the prestigious Cleveland Clinic. He is a graduate of Cornell Medical School in New York City, and became the chief plastic surgery resident at Strong Memorial Hospital in Rochester, NY.
Due to his expertise and in-depth knowledge in the field of cosmetic surgery, Dr. Richards receives invitations from several professional societies and organizations to speak at national meetings and share his expertise with other plastic surgeons. Patients in Las Vegas and surrounding communities have an opportunity to receive the latest surgical and non-surgical procedures from him.
Research
In addition to his private plastic surgery practice, Dr. Richards is also involved with research activities to further the cause of the profession. He wrote a research paper that described a technique to significantly reduce pain after breast implant surgery.
The paper was published in the leading national Aesthetic Surgery Journal and has been cited in various articles on breast surgery. Dr. Richards was also awarded with the top resident research award for studying data to discover patterns that would help improve patient care.
Voluntary Activities
Dr. Richards is known among his peers and the community for his strong commitment to humanitarian causes. One of the highlights of his volunteering activities is the time period that he spent in Uganda, Africa to perform cleft lip and palate repairs for needy patients.
He makes use of his 14 years of extensive education and training at the country's finest plastic surgery centers to come up with innovative solutions and volunteering services to contribute to the cause of humanity.
Personalized Treatment Approach
Dr. Richards engages with every patient at an individual level to understand their unique aesthetic needs, concerns and goals, and offers custom solutions to meet those needs and goals effectively. He will invest sufficient time in listening to the patient's thoughts and understanding their desires and aspirations. He will address all their queries and concerns adequately.
Dr. Richards has the expertise and experience to provide advanced surgical procedures for the breast, body, and face. However, in cases where the patient is reluctant to opt for surgical options, Dr. Richards will offer suitable non-surgical treatments to help meet the patient's aesthetic goals without surgery.
Dr. Richards likes to ensure best possible convenience for every patient at his practice, and even tries to honor requests for same-day consultations as far possible. He receives patients from various parts of Nevada and Arizona, as well as from other places. Dr. Richards balances his plastic surgery practice with a variety of activities outside of medicine. He is happily married for over 10 years and has four wonderful children. He enjoys playing sports, skiing, boating, and mountain biking. He obviously enjoys being outside and breathing in the fresh air.
If you would like more information on cosmetic surgery procedures and treatments performed by Las Vegas plastic surgeon, Dr. Bryson Richards please contact us at 702.870.7070