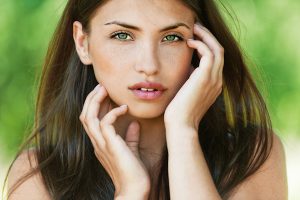 Laser skin rejuvenation treatments are increasingly sought-after in recent times due to FDA clearance for cutting-edge laser technologies, and all-round positive feedback from patients and surgeons for various laser skin rejuvenation procedures.
During the initial consultation, the surgeon will inform the patient on various facets of the treatment, including the approximate costs. Patients can compare laser skin resurfacing treatment costs and benefits with those of other procedures and make a well-considered decision according to their cosmetic needs.
Board certified plastic surgeon Dr. Bryson Richards provides laser skin resurfacing to patients in Las Vegas, NV and surrounding locations in The Silver State.
Cost Comparison with Surgery
Skin rejuvenation cosmetic surgery for the face and body can be much more costly than laser skin resurfacing procedure.
A surgical procedure will possibly be more cost-effective in the long-term, but every patient may not be amenable to spending a significant amount of money on elective surgery, or may want to avoid surgery due to the risks, discomfort or downtime involved.
Laser treatments do not require IV sedation or general anesthesia, which is a typical requirement for a plastic surgery procedure. Laser procedures can be conveniently performed in-office, unlike surgery. As a result, surgery may be more expensive due to the surgeon's fee, anesthesiologist's fee, operating room charges or overnight hospital stay.
A surgery may also involve other costs such as medical tests, prescription meds, and surgical garments. In a non-invasive treatment such as laser skin rejuvenation procedure, most of these costs are avoided.
Practice Location
Laser skin resurfacing monetary amounts can differ between two practices as well as between two patients at the same practice. The living cost index will vary from one place to another, which can impact the average dollar figure of most types of goods and services, including cosmetic treatments.
Nature and Extent of Treatment
The approach to laser skin resurfacing procedures may be ablative or non-ablative. Each approach involves a distinct laser technique which differs in intensity, treatment area to be addressed, and the number of sessions required. Ablative laser techniques are more aggressive for deeper results, while non-ablative lasers are less vigorous and are more suited to treat mild to moderately damaged skin.
There is a cost difference between various laser skin resurfacing techniques. The number of treatments needed typically vary between 3 to 6 sessions. The procedure cost may be computed on a per treatment basis or as a lump sum package rate, depending on the situation. The treatment area may include a part of the face or the entire face, neck, and other regions. These factors will be assessed to determine the total cost of the treatment.
The patient may require 3 to 6 treatment sessions on average to attain optimal outcomes. Vigorous treatments involving ablative lasers may be slightly more expensive. However, the financial stipulations may be reduced when the treatment is a part of combined aesthetic procedure. Patients should also explore various financing options to pay for the treatment in convenient monthly installments.
Dedicated cosmetic surgeon Dr. Bryson Richards receives patients from Las Vegas, NV and nearby areas in the southeast part of Nevada for laser skin resurfacing.
If you would like more information on cosmetic surgery procedures and treatments performed by Las Vegas, Nevada plastic surgeon, Dr. Bryson Richards please contact us at 702.870.7070
Taking new patients from Las Vegas, Bullhead City,  Laughlin, Pahrump, Mesquite NV and surrounding areas.