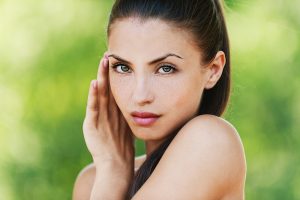 Laser skin resurfacing is one of the safe, prudent, and effective procedures to reduce the signs of aging for people who want to avoid cosmetic surgery.
During the initial consultation, the laser expert will explain all aspects of the treatment in order to help the patient make an informed choice.
Sometimes the provider may present laser skin resurfacing before and after photographs at the first consultation to enable the patient to understand the potential benefits of the procedure. Board certified plastic surgeon Dr. Bryson Richards provides laser skin resurfacing to patients in Las Vegas, NV and surrounding communities in The Sagebrush State.
What are Laser Skin Resurfacing Before and After Images?
Before and after images in case of laser skin resurfacing refer to a set of pictures belonging to a previous patient who has received the same treatment successfully. The set includes images taken before the procedure and after the procedure at a time when the initial redness in the treated sites is resolved and complete effects of the treatment have settled in.
These pictures are taken only with the consent of the patient. The provider will take care to ensure that the patient's privacy and confidentiality is maintained.
The goal of the treatment provider is to educate new patients about various aspects of the laser procedure through these pictures. The photographs serve as a visual tool to help a new patient understand what the procedure can or cannot for them.
Advantages
Laser skin resurfacing procedures include aggressive or ablative treatments to repair deeply sun damaged skin, and less aggressive or non-ablative treatments for moderate skin enhancement. Some treatments may also combine the benefits of both ablative and non-ablative techniques. For a new patient, it can be difficult to decide which of the treatment approaches may be more suited to meet their aesthetic or anti-aging needs.
This is where the laser treatment provider can use before and after photos very effectively to help the patient make the best possible decision.
Different types of skin problems may be addressed with different laser treatments. If the patient has access to laser skin resurfacing before and after photos (which can possibly happen during the consultation), they can comprehend the potential outcomes with different treatments in a better way.
The real key is here digital technology. It would be derelict not to mention the breakthroughs that this technology has created for humanity. Workplace after workplace has been utilizing this technology and the plastic surgery industry is certainly one of these workplaces or industries.
Now anyone can see these remarkable pictures from anywhere they want as long as they have Internet access. This will be mentioned again but currently there is only one before and after picture pertaining to laser skin resurfacing on this website. Certainly a potential patient can request to see more pictures of this kind during the consultation.
Keeping Realistic Expectations
Best satisfaction from any plastic surgery or non-surgical aesthetic procedure can usually be achieved when the patient has clear aesthetic goals, positive frame of mind, and realistic expectations. A new patient may not always understand clearly what the laser skin resurfacing treatment can or cannot do for them.
If the patient forms misplaced expectations, it could result in disappointment for them later on. Such unsavory situations can be avoided if the treatment provider makes use of laser skin resurfacing before and after photographs.
Online Digital Photos
Some practices may choose to provide the laser skin resurfacing before and after images on their official website and this is certainly one of them. There is one picture of this particular type of plastic surgery but if someone were to look at the other pictures they will be able to ascertain the skill of Dr. Richards. For this particular surgery, a patient should ask for more pictures during the consultation.
Moreover, this allows free online access to the photos to anyone who may be considering this treatment and transparency is the key here. It does not take anyone to devote any deep thought to be able to grasp that this clinic knows what they are doing in terms of plastic surgery and what this entails.
New patients can view the photos (as said before, there is only one photo for skin resurfacing right now) in the privacy of their home or office even before they decide to visit the surgeon's practice for a consultation.
Hard working cosmetic surgeon Dr. Bryson Richards receives patients from Las Vegas, NV and other towns and neighborhoods in this area of the state for laser skin resurfacing.
If you would like more information on cosmetic surgery procedures and treatments performed by Las Vegas, Nevada plastic surgeon, Dr. Bryson Richards please contact us at 702.870.7070
Taking new patients from Las Vegas, Bullhead City,  Laughlin, Pahrump, Mesquite NV and surrounding areas.