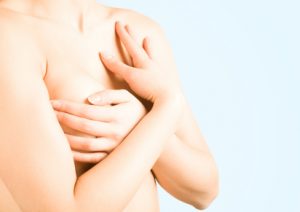 Breast augmentation revision surgery is designed to replace or remove breast implants to treat any complications that may have arisen following the primary breast enhancement cosmetic surgery procedure. Capsular contracture is a major cause of complications, which usually requires breast revision to remove or replace distorted, damaged, malpositioned, or leaking implants.
In many cases, breast revision surgery will be more complicated than the primary procedure. Implant removal, in particular, may have to be accompanied by breast lift surgery to restore youthful looking breasts. Board certified plastic surgeon Dr. Bryson Richards provides breast augmentation revision to patients in Las Vegas, NV and surrounding communities.
Removal of Saline Implants
In breast augmentation revision plastic surgery, the patient will usually have a choice to remove the implants or replace them with new ones. In case of saline implant removal, the surgeon will first deflate the implant before removing it. Saline solution is harmless to the body, which allows the surgeon to perform this technique for less invasive implant removal.
Scar tissue will usually be removed along with the implant. Insertion of new implants or a breast lift surgery will be performed at the same time once the original implants have been taken out. Revision surgery may be performed using general anesthesia or IV sedation, and may take about one hour to complete.
Removal of Silicone Implants
The cosmetic surgeon will examine the silicone implant for any signs of damage prior to its removal. The goal is to prevent leakage of silicone gel and minimize the risk. If the implants textured, their removal may be a little more complicated. In some cases, the surrounding muscle and tissue may have to be removed along with the implant.
Scar revision, breast lift or implant replacement procedures will be performed at the same time following the primary implant removal. The length of the procedure may vary according to the type of procedures performed. Dr. Richards receives patients from Las Vegas, NV and nearby areas for silicone implants.
Replacement of Implants
Breast implant replacement is quite similar to the primary breast augmentation surgery. Implant replacement options will be evaluated after taking into account the type of complications that the original implants may have caused. The original implant size, shape, texture, or positioning of the implants may have contributed to the complications.
The surgeon will prepare a breast implant replacement plan after reviewing all aspects. If the patient was unsatisfied with the aesthetic outcome of the original implants, the surgeon will usually recommend a different type and size of implant for the replacement surgery. The patient should consider the pros and cons of each implant option and also look at the latest ultra-cohesive silicone implant options.
Recovery
Recovery will be simpler and faster in case of implant replacement where the original incisions are used to replace similar type and size of implants. Implant removal may involve a slightly longer downtime because it may have to be combined with breast lift surgery. Most women can expect to resume their normal activities in one to two weeks after the revision surgery.
If you would like more information on cosmetic surgery procedures and treatments performed by Las Vegas, Nevada plastic surgeon, Dr. Bryson Richards please contact us at 702.870.7070
Taking new patients from Las Vegas, Bullhead City,  Laughlin, Pahrump, Mesquite NV and surrounding areas.