IV Therapy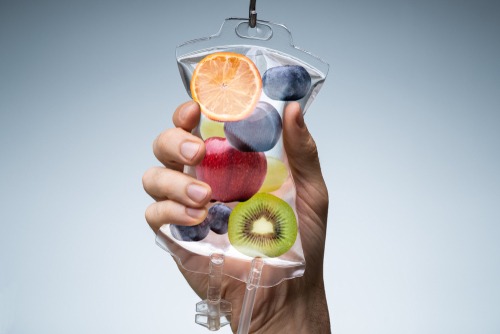 Vitamin C is found in dietary supplements and food. It's a powerful antioxidant that plays an integral role in collagen formation. High-dose vitamin C can be provided orally (taken by mouth) or through intravenous infusion (IV infusion).
IV infusion involves injecting vitamin C through a vein directly into the bloodstream. It allows vitamin C levels in the bloodstream to reach higher levels as opposed to oral administration. Board certified plastic surgeon Dr. Bryson Richards provides Vitamin C IV therapy to patients in Las Vegas, NV, and surrounding locations.
Antioxidant Effects
Oxidation is one of the body's many chemical processes. Disruptions because of alcohol consumption, stress, and smoking can result in the formation of damaging and unstable molecules called free radicals. These molecules can harm your DNA and lead to health concerns, such as cholesterol buildup and cancer.
Research has shown that vitamin C is an effective antioxidant. You can prevent the chemical process from occurring by taking high vitamin C doses. You can also stop the development of free radicals in the body that cause damage with this therapy.
Antihistamine Effects
Vitamin C deficiency can result in an increase in asthma attacks and seasonal allergies. Vitamin C has been shown to decrease bronchial responsiveness and have an overall antihistaminic effect. Free radicals can result in airway obstruction in patients with asthma. It is a radical scavenger that doesn't harm the body. IV therapy can be beneficial for people battling frequent asthma and allergies.
Improved Immune Support
Everyone knows that vitamin C in the form of an immune support drink or a supplement is great for colds. It is one of the best antiviral agents. Vitamin C improves the neutralizing of viral, bacterial, and fungal infections by the immune system.
However, the body can only absorb a limited quantity of oral vitamin C. Higher doses may cause gastrointestinal troubles. Vitamin C intravenous (IV) therapy allows the body to absorb higher doses without any negative effects.
Production of Collagen
Vitamin C helps in maintaining adequate collagen levels in the body. Collagen is the main structural protein in the connective tissue. It is a third of the body's protein. Collagen is present in teeth, bones, skin, blood vessels, tendons, cartilage, and heart valves among others. It is particularly useful in maintaining a healthy heart.
You can ensure that collagen in your body is present at healthy levels by taking intravenous vitamin C. It can also play a major role in preventing cardiovascular diseases.
Anti-Cancerous Properties
Vitamin C, as per studies, can assist in treating a wide variety of cancers. This is done by reducing the body's toxicity levels. IV therapy involving vitamin C can help the body fight off cancer cells too. It doesn't just protect your body from cancer, but also fights it.
Vitamin C when administered intravenously is exceptional for your immune system. High doses of the nutrient attacks cancer cells exclusively without harming healthy tissues. Cosmetic surgeon Dr. Bryson Richards receives patients from Las Vegas, NV, and nearby areas for Vitamin C IV therapy.
Contact Las Vegas Board Certified Plastic Surgeon Dr. Richards to Schedule a Consultation
If you would like more information on cosmetic surgery procedures and treatments performed by Las Vegas, Nevada plastic surgeon, Dr. Bryson Richards please contact us at 702.870.7070
Taking new patients from Las Vegas, Bullhead City,  Laughlin, Pahrump, Mesquite NV and surrounding areas.