RichardsCosmeticSurgery.com is the new website of leading plastic surgeon, Dr. Bryson Richards. Dr. Richards provides advanced and innovative reconstructive and cosmetic surgery procedures in a safe and effective manner.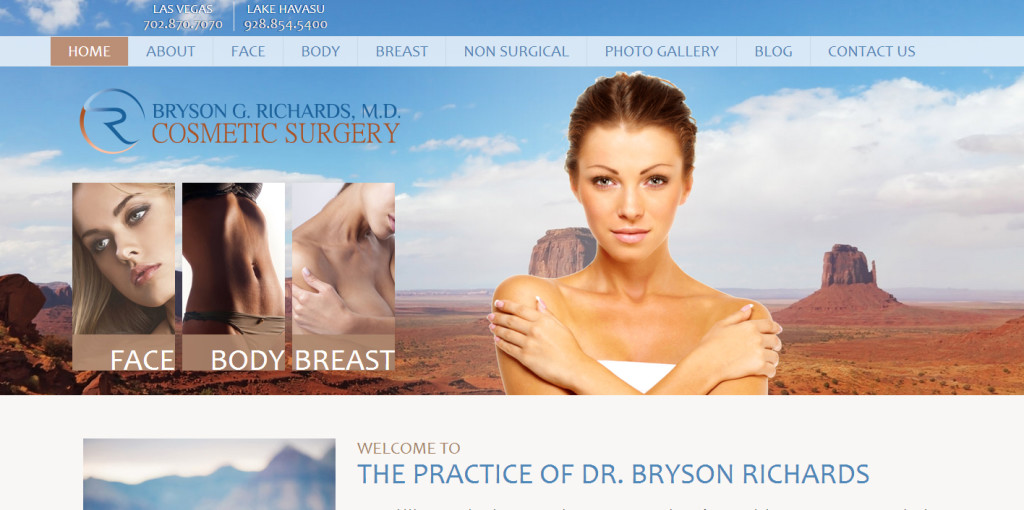 Operating out of Las Vegas, he offers a comprehensive range of procedures for the breast, body and face. For patients who are looking for alternatives to plastic surgery, Dr. Richards provides safe, proven and effective non-surgical procedures.
Detailed Section on Dr. Richards
RichardsCosmeticSurgery.com includes a detailed section that informs new patients about the educational and training background as well as other insights about Dr. Richards. One of the most important concerns for a new patient who is considering an aesthetic or reconstructive procedure is to learn about the cosmetic surgeon who will perform the procedure. Therefore, the website of Dr. Richards includes a detailed section that offers accurate information about him.
Patients are in a better position to decide whether to seek treatment from a particular plastic surgeon when they know about his or her qualifications, specialized skills, experience and achievements in the field of cosmetic surgery. The section includes information about the academic journey of Dr. Richards as well as his training and experience at various leading medical centers and institutions. Patients in Las Vegas and surrounding areas have an opportunity to receive state of the art treatments from Dr. Richards.
Separate Sections on Procedures
New patients who are seeking to learn about various plastic surgery procedures or non-surgical treatments provided at the offices of Dr. Richards can receive detailed information at his website RichardsCosmeticSurgery.com. The information is broadly categorized into four major sections, including face, body, breast, and non-surgical sections.
Various procedures related to these areas, including facelift, rhinoplasty, facial implants, eyelid surgery, tummy tuck surgery, liposuction, mommy makeover, body lift, breast augmentation, breast lift, breast reduction, breast revision and breast reconstruction, are described in adequate details in these sections.
Patients can get some initial idea about what kind procedures may be suitable for their needs. They can learn about how much time it may take to perform a surgery, how the procedure will be performed, and what will be the expected recovery process. The goal of Dr. Richards is to educate his patients in the region about various plastic surgery procedures that are available to address their aesthetic and reconstructive concerns effectively.
Section on Non-surgical Procedures
A separate section of non-surgical skin rejuvenation treatment options provides information about how a patient's anti-aging and body contouring concerns can be addressed without surgery. Details on various popular and innovative non-invasive and minimally invasive procedures are available on the website.
Once the patients have a basic idea of treatment options such as Botox, Dysport, Xeomin, facial fillers, and other treatments such as hair transplantation, laser treatments for skin resurfacing and CoolSculpting for fat reduction, they can visit the plastic surgeon and engage in a more meaningful consultation.
The website also includes sections such as a Photo Gallery and Blog to provide regularly updated, enriched, and value added information to patients about various surgical and non-surgical treatments.
If you would like more information on cosmetic surgery procedures and treatments performed by Las Vegas, Nevada plastic surgeon, Dr. Bryson Richards please contact us at 702.870.7070
Taking new patients from Las Vegas, Bullhead City,  Laughlin, Pahrump, Mesquite NV and surrounding areas.