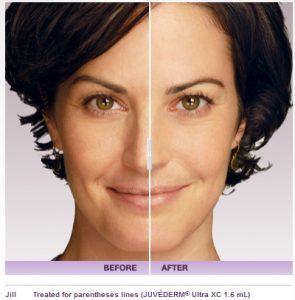 Dermal filler injections currently rank as the second most popular non-surgical aesthetic procedure in the US after Botox.
People who want to avoid cosmetic surgery can choose this non-surgical liquid facelift option to achieve facial rejuvenation. Liquid facelift may involve a combination of multiple dermal fillers, in some cases, adding Botox as another injectable treatment to create the desired facial anti-aging outcomes.  
Millions of American women and men undergo dermal filler treatments every year in the US with successful results. However, it is important to choose a qualified and experienced treatment provider at a practice equipped to deliver such procedures effectively. Board certified, cordial, and successful plastic surgeon Dr. Bryson Richards provides liquid facelift with dermal fillers to patients in Las Vegas, NV, and surrounding locations in The Sagebrush State.
Facial Aesthetic Enhancement
It is possible to achieve the following facial aesthetic enhancements with a dermal filler liquid facelift procedure without involving plastic surgery:
Subtle lift in the sagging facial features such as jowls and eyebrows.

Filling of the depressions below the eyes and reduction of under eye dark circles.

Lifting of sagging corners of the mouth.

Minimizing the nose bump appearance.

Volumizing cheeks and temples.

Creating more defined and fuller lips.

Restoring an overall youthful and rested facial appearance.
People in the age group of 30 to 65 commonly choose non-surgical liquid facelift dermal filler treatment. The patient should ideally have some degree of skin elasticity in the face to achieve significant improvement in facial appearance and reduction of obvious signs of aging. Terrific and sagacious cosmetic surgeon Dr. Richards receives patients from Las Vegas, NV and other neighborhoods and communities for dermal fillers.
Injection Procedure
The treatment provider may recommend one or more dermal filler injections from Juvederm, Restylane, Voluma, Radiesse, and Sculptra to treat facial aging. Neuro modulators such as Botox or Dysport will be used to treat frown lines on the forehead and crow's feet around the eyes. If the patient wants to mitigate dark circles below the eyes and fill under eye depressions, Restylane filler may be an ideal option.
Juvederm Voluma and Sculptra Aesthetic are considered good options to build cheek volume and create a fuller, rounder face. Smile lines and nasolabial folds can be improved with Juvederm filler. Liquid facelift injectable treatment is often completed in about 30 minutes.
The provider may use a numbing cream in the treatable areas before the injections. Some of the fillers will already include lidocaine local anesthetic.
Safety and Convenience
A non-surgical liquid facelift procedure will avoid all the potential risks and complications that are typically associated with a surgery. Radiesse, Sculptra Aesthetic, Restylane, Juvederm, and Voluma are all FDA approved dermal fillers with a proven track record of safety and success. These fillers include biocompatible ingredients, which minimize or eliminate the risk of allergy.
The liquid facelift procedure can be performed at the surgeon's office on an outpatient basis. Most patients can resume their regular activities or return to work almost immediately. Treatments may be repeated in the future to extend the aesthetic benefits.   
If you would like more information on cosmetic surgery procedures and treatments performed by Las Vegas, Nevada plastic surgeon, Dr. Bryson Richards please contact us at 702.870.7070
Taking new patients from Las Vegas, Bullhead City,  Laughlin, Pahrump, Mesquite NV and surrounding areas.