Dermabrasion vs. Microdermabrasion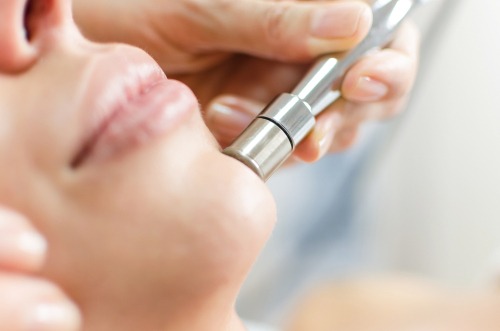 Dermabrasion and microdermabrasion are two highly sought after cosmetic procedures. These may be more effective than filler injections, skin peels, and laser cosmetic surgery for some patients to rejuvenate facial skin. Your plastic surgeon will create micro-wounds in the skin in a controlled manner using an abrasion tool in dermabrasion. This will result in a noticeable change in the appearance of your skin. The procedure works well on scarred and aging skin.
Your cosmetic surgeon may recommend dermabrasion only for your face. However, it can be performed on other parts of the body as well. It is important that you get this advanced procedure performed by a trained and qualified professional.
Microdermabrasion, on the other hand, is a skin rejuvenation technique. This usually involves an abrasive tool or a vacuum suction to remove the topmost layer of the skin. Anesthesia or sedatives are not required in microdermabrasion. This is because the painless procedure doesn't involve penetrating deeper skin layers.
Board certified plastic surgeon Dr. Bryson Richards provides dermabrasion and microdermabrasion treatments to patients in Las Vegas, NV, and surrounding communities.
Ideal Candidate for Dermabrasion and Microdermabrasion
Dermabrasion tends to create wounds by working on deeper skin layers. New skin that comes upon wound healing is of a better quality. Your surgeon may recommend this procedure if you want to remove or reduce scars from acne or trauma, wrinkles, enlarged and red nose (rhinophyma), tattoos, and actinic keratosis.
Conversely, microdermabrasion works on the most superficial skin layer called the stratum corneum. This layer contains dead cells making the non-invasive cosmetic surgery procedure safe for the most sensitive skins. However, microdermabrasion is not recommended for people that have active skin diseases, infections, or acne.
What Is Involved in the Procedures?
Your cosmetic surgeon will administer local anesthesia before performing dermabrasion. They will apply an abrasive device on the targeted area once your skin is numb. The abrasive tool has a rotating wire wheel or brush that is encrusted with an abrasive screen or crystals.
Depending on the skin area, the surgeon will choose the type of dermabrasion device to use. They may prevent the skin from moving during the treatment by spraying a refrigerant. The skill and expertise of a surgeon plays a large role in determining results.
The surgeon will forcefully spray an inert crystalline material on the skin during microdermabrasion. In some cases, microdermabrasion also involves forceful rubbing of the skin using a crystal impregnated wand. This is done to exfoliate the topmost skin layer without penetrating the deeper layers. You may experience inflammation, but the swelling is only temporary.
Duration and Process of Recovery
Dermabrasion wounds need to be daily treated with moist dressings. Healing can take anywhere from 7 – 10 days. Redness will remain till about 6 weeks in case of dermabrasion. Microdermabrasion, on the other hand, does not cause any wounds or post-operative care. Swelling and redness are mild, lasting only for a short while.
Cosmetic surgeon Dr. Bryson Richards receives patients from Las Vegas, NV, and nearby areas for dermabrasion and microdermabrasion skin care procedures.
Contact Las Vegas Board Certified Plastic Surgeon Dr. Richards to Schedule a Consultation
If you would like more information on cosmetic surgery procedures and treatments performed by Las Vegas, Nevada plastic surgeon, Dr. Bryson Richards please contact us at 702.870.7070
Taking new patients from Las Vegas, Bullhead City,  Laughlin, Pahrump, Mesquite NV and surrounding areas.