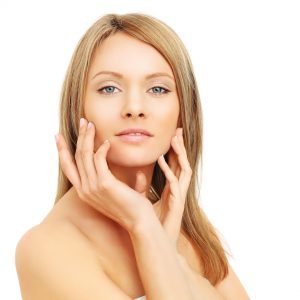 Radiesse is a cutting-edge dermal filler gel which can effectively treat wrinkles and deep creases around the mouth and nose such marionette lines, smile lines, and nasolabial folds.
Radiesse is an FDA-approved dermal filler treatment that instantly adds volume to the treated facial sites and offers natural looking results that reduce any noticeable signs of aging on the face.
Board certified plastic surgeon Dr. Bryson Richards provides facial filler injections to patients in Las Vegas, NV, and surrounding communities.
Primary Properties of Radiesse
A unique property of Radiesse is to offer support to weakened structures of the face. Additionally, it improves the generation of fresh collagen in the deeper skin layers. This increases the longevity of the rejuvenation effects for up to a year or more. 
Radiesse comprises calcium-based microspheres that add fullness to the skin to treat depleted facial areas. Many clinical studies prove that Radiesse dermal filler treatment is highly sustainable and effective. 
Prior to undergoing Radiesse dermal filler treatment, the patient does not require any allergy testing as this filler contains calcium hydroxylapatite, which is naturally found in the human body.
In the initial three months following Radiesse soft tissue filler treatment, the skin appears plumper, and there is a noticeable reduction in the creases and lines in the treated area. 
Subsequently, Radiesse microspheres promote the production of new collagen which further enhances the outcomes of the treatment. The results can sustain for up to two years.  
Radiesse is also effective in the treatment of oral and maxillofacial defects, facial lipoatrophy, and chin dimples and scars. 
Which Facial Sites can be treated with Radiesse?
Radiesse fillers are a versatile treatment that creates beautiful results for various aesthetic and corrective facial needs. 
This filler adds fullness to depleted areas of the face to create a more youthful, natural-looking appearance. Radiesse can effectively address the following conditions: 
Marionette Lines 

Chin Reshaping

Nasolabial Folds

Frown Lines 

Bridge or Nasal Augmentation 

Cheek Enhancement 

Jaw Line Contouring

Lip Augmentation 

Smile Lines 
Radiesse for Hands
Many individuals seek to mitigate the appearance of wrinkles on their hands. For such people, Radiesse offers an excellent hand rejuvenation solution. 
This is an advanced dermal filler that can instantly restore lost volume to the back of the hands creating a smooth and youthful appearance. Radiesse enhances the appearance of the hands by:
Restoring volume fullness

Reducing the appearance of veins and tendons 

Offering smooth, natural-looking outcomes
Injection Procedure
The injection provider will administer Radiesse in a simple outpatient procedure, which is typically performed using local anesthesia. The treatment takes around 15 minutes to complete. The provider will determine one or more injection sites for each treatment area. 
They will then apply a local anesthetic and antiseptic. After that, the provider will inject Radiesse under the skin, beneath the dermis and subcutis layer. 
Patients will immediately see visible results. However, the complete outcomes of the treatment will be apparent in around one week. The results of the procedure can last for up to two years. 
Board certified plastic surgeon Dr. Bryson Richards provides facial filler injections to patients in Las Vegas, NV, and surrounding communities.
If you would like more information on cosmetic surgery procedures and treatments performed by Las Vegas, Nevada plastic surgeon, Dr. Bryson Richards please contact us at 702.870.7070
Taking new patients from Las Vegas, Bullhead City,  Laughlin, Pahrump, Mesquite NV and surrounding areas.