Tempsure® Envi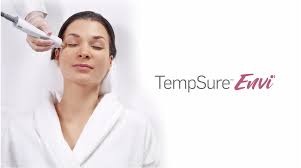 TempSure Envi is a nonsurgical treatment for reducing the appearance of wrinkles and fine lines. The system utilizes radiofrequency energy for heating deeper tissue layers and stimulating the natural collagen production in the body. It allows for a stronger and youthful appearing skin.
Board certified plastic surgeon Dr. Bryson Richards provides reliable and proven TempSure Envi collagen regeneration, lip augmentation, and skin rejuvenation treatments to patients in Las Vegas, NV, and surrounding locations.
Suitable Candidates
The human body produces less collagen as it ages. Collagen is primary to the skin's inherent structure. Lack of collagen may lead to skin laxity and cause wrinkles and fine lines. You are a suitable candidate for TempSure Envi if you notice early signs of aging, such as crow's feet, frown lines, and forehead lines. The procedure can provide smoother and tighter skin.
TempSure Envi can effectively treat mild to moderate signs of aging. It is great for patients that don't want to undergo a facelift or any other invasive procedure. This is a gentle treatment and is safe for all skin types. It can be performed whenever you want, even when you have a tan.
TempSure Envi Treatment Process
This is a completely noninvasive procedure and doesn't require anesthesia. However, to make your comfortable, the treatment provider may apply a cooling gel on the target site. Radiofrequency energy will be delivered by an appropriate TempSure Envi handpiece to heat deeper layers of tissue. The system makes use of controlled temperature to prevent the skin from getting too hot.
The handpiece is used to massage the skin in small circular motions while delivering radiofrequency. The skin normally cools down once the procedure is complete. Each session takes about 30 to 60 minutes depending on the treatment size. You should be able to notice improvements after just one treatment session. However, for optimal results, you should consider 3 – 6 treatment sessions spaced 1 to 4 weeks apart.
Skin Safe
TempSure Envi is an effective and gentle treatment option. It can be used on all skin types at any time of the year. You don't need to worry about sun exposure following the treatment. But, it is recommended that you save your skin from the sun as much as possible. Your surgeon will create a customized plan to meet your aesthetic goals and offer the results you want. Typically, patients require a series of TempSure Envi sessions for achieving their anti-aging goals.
TempSure Envi Results and Recovery
There is no downtime following a TempSure Envi treatment. You can return to your normal routine almost immediately. You should be able to notice reduction in wrinkles and fine lines in about 2 to 3 days. Your skin will continue rebuilding collagen in the next few weeks following the treatment session due to release of tissue growth factors.
Collagen and elastin fibers will create a tighter and more youthful skin structure after about a month. You would see maximum improvement after 3 months following the last treatment session.
Cosmetic surgeon Dr. Bryson Richards receives patients from Las Vegas, NV, and nearby areas for innovative and advanced TempSure Envi skin enhancement, lip augmentation, and facial anti-wrinkle treatments.
Contact Las Vegas Board Certified Plastic Surgeon Dr. Richards to Schedule a Consultation
If you would like more information on cosmetic surgery procedures and treatments performed by Las Vegas, Nevada plastic surgeon, Dr. Bryson Richards please contact us at 702.870.7070
Taking new patients from Las Vegas, Bullhead City,  Laughlin, Pahrump, Mesquite NV and surrounding areas.