Plastic Surgeon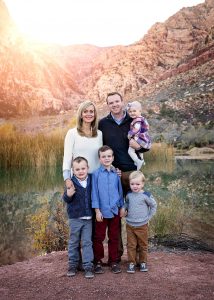 The popularity of cosmetic surgery procedures has grown manifold over the last two decades as the surgical techniques became more advanced and innovative aesthetic technologies were introduced. However, the single most important factor that continues to influence the final results of an aesthetic surgery procedure is the expertise of the operating surgeon.
Dr. Bryson Richards is a board certified plastic surgeon providing a wide range of surgical as well as non-surgical aesthetic procedures. With over 14 years of training and education at the country's leading surgery centers, Dr. Richards is in a position to provide cutting edge procedures for breast, body, and face. He receives patients from Bullhead City, NV and various other areas.
Personalized Care
Dr. Richards recognizes the need for personalized care and attention in a plastic surgery procedure, and how positively it can impact the overall results. He remains easily accessible to the patients from the stage of initial consultation to recovery and beyond. He will address their doubts and concerns in detail, and make every effort to put the patient completely at ease.
The patient is involved in every decision related to their procedure in order to achieve results that are exactly in line with their personal needs. Patient education is an important aspect of Dr. Richards' treatment approach. Once the patient has a clear understanding of the procedure, they are much better placed to cooperate and receive the treatment effectively.
Latest Surgical Techniques
Dr. Richards believes that a cosmetic surgeon must be constantly motivated to provide the latest and most beneficial surgical solutions. He remains committed to continual education and research in order to stay updated with the newest developments and advances in the field of aesthetics. He will introduce innovations to make the procedures less invasive, less painful, and enabling a faster recovery.
While pursuing innovation, Dr. Richards ensures that the surgical procedures and technologies are proven and well-established before he adopts them. Safety and health of the patient continue to be his overriding priority in every surgery. He follows best surgical practices and latest safety protocols in the patient's best interests. Dr. Richards provides procedures to patients in Bullhead City, NV and other locations.
Academic Background
Dr. Richards received training in advanced cosmetic plastic surgery at the pre-eminent Cleveland Clinic. He graduated from Cornell Medical School in New York, and served as chief plastic surgery resident at Strong Memorial Hospital in Rochester, NY. He has been invited by leading societies to speak at national meetings to share his expertise with other plastic surgeons.
Dr. Richards' scientific paper describing a surgical technique to significantly reduce pain after breast augmentation was published in the leading Aesthetic Surgery Journal and has been cited by other breast surgery articles. During his residency, he also earned the top resident research award for his research to find patterns to help improve patient care.
Community Involvement
Dr. Richards was a part of the plastic surgery volunteer mission to Uganda in 2012. He has been involved with youth mentoring as Children's Advocacy Center Mentor in New York.
If you would like more information on cosmetic surgery procedures and treatments performed by Las Vegas, Nevada plastic surgeon, Dr. Bryson Richards please contact us at 702.870.7070
Taking new patients from Las Vegas, Bullhead City,  Laughlin, Pahrump, NV and surrounding areas.