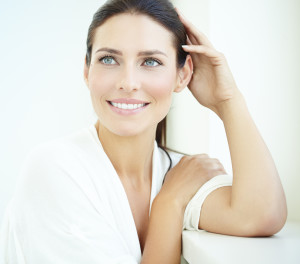 Aging effects, sun exposure, environmental damage, and disease can cause wrinkles, fine lines, acne, pigmentation issues, and other skin imperfections. You have to take care of your skin but some things are just unavoidable and inevitable.
For people who want to avoid cosmetic surgery to address these conditions, a number of non-surgical skin resurfacing treatments are now available. Terrific, hardworking, and board certified plastic surgeon Dr. Bryson Richards provides these advanced solutions to patients in Las Vegas, NV and surrounding communities across the horizon.
Laser Skin Resurfacing
Dr. Richards' plastic surgery practice is equipped with a state of the art Laser Genesis treatment system that will diminish early signs of aging by promoting the production of new collagen fibers and new skin cell generation. This effective non-ablative procedure is ideally suited for candidates who want to improve:
Wrinkles and fine lines

Certain types of acne scars and other minor scars

Enlarged pores

Rosacea

Problems of pigmentation

Irregular skin texture
Laser Genesis involves the use of a fractionated CO2 laser that targets the top layers of damaged skin cells by focusing pulsating beams of light over the affected area. The heat energy produced by the laser penetrates into the deeper tissue to stimulate fresh collagen production. This dual effect helps the patient achieve an even, smooth, and youthful looking skin appearance.
Chemical Peels
The judicious Dr. Richards offers advanced chemical peel skin rejuvenation treatments to restore healthy and bright skin. The treatment involves a unique chemical-induced exfoliation process to eliminate the damaged or dead skin cells from the top skin layers, revealing smooth, and healthy skin underneath. Deep chemical peels can significantly improve the appearance of facial wrinkles and fine lines.
The perceptive and dependable Dr. Richards' practice provides a medium depth VI Peel, which can create significant anti-aging effects without the extended downtime and discomfort involved with traditional strong chemical peels. VI Peel is a combination of five rejuvenating acids, which include: TCA, Retin-A, Salicylic Acid, Phenol, and Vitamin C. The peel will gently remove damaged skin cells, while minimizing discomfort because of a numbing agent which is already a part of the peel.
Laser Hair Removal
Dr. Richards offers laser hair removal treatments to candidates who want to get rid of unwanted hair in almost any area of the body. Dr. Richards' practice is equipped with the advanced Cutera xeo laser, which is capable of covering large surface areas for quick and even treatment. The technology also delivers continuous cooling contact to keep the patient comfortable through the treatment.
The controlled laser beams will selectively target the melanin in hair follicles. The heat energy from the laser destroys the hair follicle for long lasting hair reduction. The procedure is safe for all skin types. Most patients will require about six to eight laser treatment sessions at intervals of one to two months to achieve comprehensive and sustainable hair removal results.
The treatment with Cutera xeo laser does not involve anesthesia or downtime. Patients can go back to their normal routine after a treatment session. Proven and wonderful cosmetic surgeon Dr. Bryson Richards receives patients from Las Vegas, NV and other suburbs and communities in this area of Nevada for cutting edge skin resurfacing and rejuvenation procedures.
If you would like more information on cosmetic surgery procedures and treatments performed by Las Vegas, Nevada plastic surgeon, Dr. Bryson Richards please contact us at 702.870.7070
Taking new patients from Las Vegas, Bullhead City,  Laughlin, Pahrump, Mesquite NV and surrounding areas.