Reduce Large Pores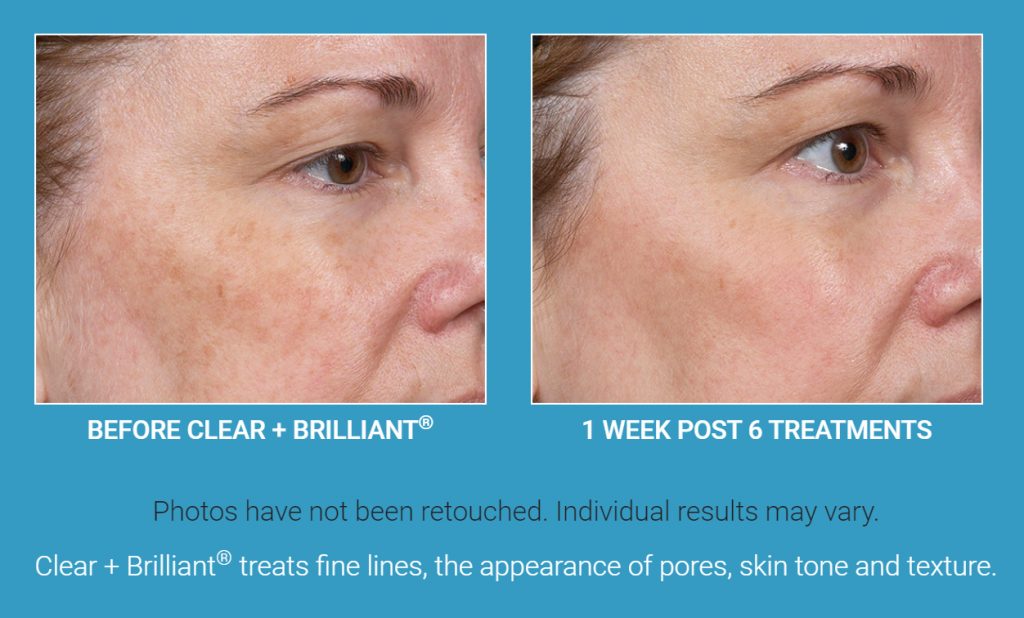 Large pores are a common issue experienced by many individuals. Large pores tend to make the skin texture uneven and rough. They are especially problematic for acne-prone skin since larger skin pores tend to get inflamed and clogged more often.
Small pores are generally equated with beautiful complexion. Many people covet barely visible pores since they give the skin a smooth, gorgeous, and flawless look. In addition, small pores help with makeup application. Clear + Brilliant is a revolutionary new treatment that takes skin care to the next level. It not only addresses skin problems, but also helps you prevent the various signs of aging.
During your pre-op consultation, discuss the potential benefits and limitations of the non-surgical treatment options available with your surgeon. Board certified plastic surgeon Dr. Bryson Richards provides skin resurfacing procedures for the reduction of enlarged pores to patients in Las Vegas, NV, and surrounding communities.
Advantages of Clear + Brilliant
Most people experience a visibly renewed and illuminated skin tone. They marvel the smooth and ultra-soft texture of their skin. They also like the naturally glowing and radiant skin texture. You can enjoy improved skin tone, radiance, and texture with Clear + Brilliant in addition to reducing the appearance of enlarged pores.
Other benefits of the treatment include:
It is fast, comfortable, affordable, and effective
There is zero downtime
It is safe for all types of skin
Suitable Candidates for Clear + Brilliant
Suitable candidates should need help with:
Enlarged pores
Fine lines on cheeks
Superficial lines around the mouth and eyes
Superficial brown age spots
Rough skin texture
Clear + Brilliant treatment works on all skin tones and types. But, it shows especially great results on younger patients who want to proactively control the various signs of aging. This is because the treatment boosts skin tone and encourages new collagen growth. It also shrinks pores and helps in smoothing out the texture.
Clear + Brilliant Technology
This is a non-invasive dioxide laser which refreshes the skin from the inside out. It requires minimal recovery time and has low risk of complications. Post procedural redness and swelling shall disappear within a day or two. The treated area tends to feel rough, which goes away within 4 to 5 days.
There are two treatment options:
1440-nanometer wavelength laser reduced fine lines, diminishes pore size, and improves skin texture
1927-nanometer wavelength laser treats various pigmentation issues, such as sun spots, melisma, and other types of sun damage
Clear + Brilliant laser treatment creates millions of treatment zones at the microscopic level to replace damaged skin. Additional treatments only add to the improvements in skin texture.
Expected Results
Clear + Brilliant can help treat enlarged pores effectively as long as you get sessions every 3 to 4 weeks. You would need a minimum of 2 to 6 treatments for visible results depending on your aesthetic goals. Each treatment session takes about 30 minutes and most patients notice a visible difference right after the very first treatment.
You should expect refreshed and recharged skin with an even tone. Cosmetic surgeon Dr. Bryson Richards receives patients from Las Vegas, NV, and nearby areas for skin resurfacing treatments for enlarged pores reduction.
Contact Las Vegas Board Certified Plastic Surgeon Dr. Richards to Schedule a Consultation
If you would like more information on cosmetic surgery procedures and treatments performed by Las Vegas, Nevada plastic surgeon, Dr. Bryson Richards please contact us at 702.870.7070
Taking new patients from Las Vegas, Bullhead City,  Laughlin, Pahrump, Mesquite NV and surrounding areas.