Skin 
Resurfacing Treatments
As you age, it gets increasingly harder to avoid fine lines and blemishes on the face, with the skin becoming lackluster and dull. Chemical peels or microdermabrasion are proven solutions for your skin, but sometimes these procedures may not deliver the kind of cosmetic skin rejuvenation you are looking for.  
NanoLaserPeel and MicroLaserPeel are cutting-edge solutions to enhance your skin texture, tone and color. During your initial consultation, your cosmetic expert will determine your candidacy and recommend one of these treatments as needed. Board certified plastic surgeon Dr. Bryson Richards provides advanced skin resurfacing treatments to patients in Las Vegas, NV and surrounding locations.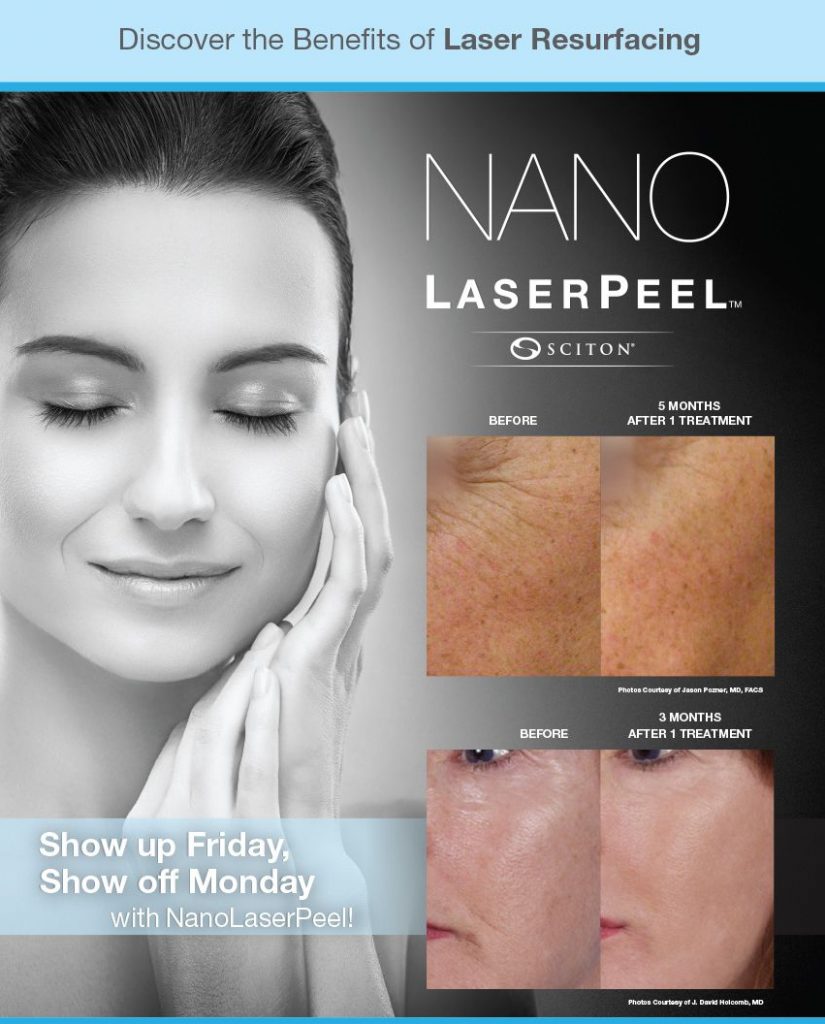 Customizable Treatments
NanoLaserPeel and MicroLaserPeel are both highly customizable cosmetic laser peels. Depending on your skin condition and your personal goals, your provider will determine the precise treatment intensity you require. This will impact your results as well as the downtime involved.  
Even if you choose MicroLaserPeel of the highest strength, your downtime will be less than a week because the treatment essentially works on relatively shallow skin depths. The intensity of this laser peel can range between 10 and 30 microns.  
When this treatment is performed at a low intensity level of 4 to 10 microns, it is called a NanoLaserPeel. The downtime involved with this treatment will be about one to three days. Results with NanoLaserPeel will be nearly equivalent to four microdermabrasion treatments performed all at once.   
You can choose MicroLaserPeel and NanoLaserPeel as a series of intensive treatments or use them as your periodic skin maintenance program every quarter.  
How do these Treatments Work?
Whether you choose NanoLaserPeel or the more intensive MicroLaserPeel treatment, the science behind it remains the same. In both these treatments, your provider will scan your affected areas with a laser beam to precisely vaporize (ablate) an ultra thin layer of skin from the top.  
That will help you get rid of old, damaged tissue. The old cells, which have been contributing to your aged, tired look, pigment irregularities and superficial skin blemishes, will be eliminated with the treatment.  
Light Skin Resurfacing with Laser Peels
Both MicroLaserPeel and NanoLaserPeel are fast and effective treatments. These are completely safe because the skin resurfacing is only superficial in both cases. You may compare its intensity to about two to four times that of a microdermabrasion session.  
Your face and neck are the more commonly treated areas, but you may also consider these procedures to rejuvenate the skin in your chest and the back of your hands. A single treatment session will only last for about 15 to 30 minutes, depending on the area size.  
The following skin conditions are best resolved with these laser peels:  
Mild wrinkles and fine lines

 

Certain types of acne scars

 

Actinic Keratoses 

 

Brown spots and sun damage

 

Pigmentation irregularities 

 
Results 
You will have noticeable improvement in your skin texture, tone and evenness of skin color in about a week after the procedure as your skin heals. With MicroLaserPeel, you may be able to achieve your desired outcomes with just one treatment. But with NanoLaserPeel, you may require multiple treatments for best results. 
Cosmetic surgeon Dr. Bryson Richards receives patients from Las Vegas, NV and nearby areas for safe and proven laser skin resurfacing treatments.  
Contact Las Vegas Plastic Surgeon Dr. Richards to Schedule a Consultation
If you would like more information on cosmetic surgery procedures and treatments performed by Las Vegas, Nevada plastic surgeon, Dr. Bryson Richards please contact us at 702.870.7070
Taking new patients from Las Vegas, Bullhead City,  Laughlin, Pahrump, Mesquite NV and surrounding areas.