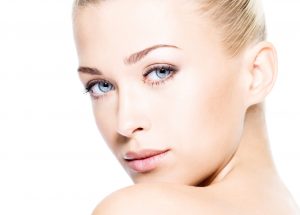 Halo is the first ever Hybrid Fractional Laser (HFL) technology introduced to improve skin resurfacing outcomes. Halo has the ability to deliver both ablative and non-ablative laser wavelengths into the same targeted treatment site, providing superior results without any significant discomfort or downtime. 
Halo laser skin resurfacing treatments are virtually painless, which is a transformative achievement in the field laser skin resurfacing. Board certified plastic surgeon Dr. Bryson Richards provides Halo skin resurfacing laser treatment to patients in Las Vegas, NV and surrounding communities. 
Combining the Power of Ablative and Non-Ablative Wavelengths
In traditional laser skin resurfacing techniques, ablative fractional treatment is the norm. It can vaporize the aged tissue with mild levels of morbidity, less downtime, and less thermal injury. Non-ablative fractional lasers, on the other hand, will cause tissue coagulation and thermal injury with lower morbidity levels. 
The Halo hybrid fractional laser solution combines the non-ablative and ablative wavelengths, which are delivered with high precision to the same microscopic treated zone. This enables maximum clinical outcomes with minimal downtime. You can expect improved patient experience compared to traditional laser skin resurfacing with this safe and effective hybrid laser technology. 
Advantages 
Results are consistent and predictable 

Just one to two treatments are sufficient for most patients

Hands, chest, and neck skin can be treated, in addition to the face

Suitable for all skin types

Customizable settings for energy density for quicker treatments

More comfortable compared to traditional laser skin resurfacing

Rapid healing, and you can use makeup after 24 hours

Minimal downtime 

No specific post-op care 

Noticeable results within a few weeks 
Faster Results and Superior Patient Experience
You can expect to achieve significant improvement in your skin appearance with Halo laser skin resurfacing. While with the traditional non-hybrid lasers, you would typically require five or six treatment sessions to achieve substantial skin texture and pigmentation improvement, you can expect similar or better results in just one to two treatments with Halo laser. 
Patient experience with Halo hybrid fractional lasers is very favorable. The treatment sessions are comfortable. You will only need a topical anesthetic application. You will be ready to apply makeup in just 24 hours following the treatment.
Skin Concerns Addressed with Halo 
Facial wrinkles and fine lines

Pigmented lesions

Enlarged pores

Sun damage

Acne scars and surgical scars

Actinic Keratoses 

Other skin imperfections and aging signs 
Integrated Cooling 
Integrated air cooling along with smoke evacuation are key features in the Halo laser hand piece. The integrated cooling process delivers cold air throughout the treated area, ensuring patient comfort. Smoke evacuation keeps you and the treatment provider safe. 
DTO Technology
Halo has the Dynamic Thermal Optimization system built into it. This allows your provider to auto-adjust the power of each laser pulse based on the skin's temperature. With this feature, Halo easily ranks among the safest, most precise, and consistent non-ablative laser technologies available today.
Cosmetic surgeon Dr. Bryson Richards receives patients from Las Vegas, NV and nearby areas for Halo laser skin resurfacing treatment.  
Contact Us to Schedule a Consultation
If you would like more information on cosmetic surgery procedures and treatments performed by Las Vegas, Nevada plastic surgeon, Dr. Bryson Richards please contact us at 702.870.7070
Taking new patients from Las Vegas, Bullhead City,  Laughlin, Pahrump, Mesquite NV and surrounding areas.