QWO to Get Rid of Cellulite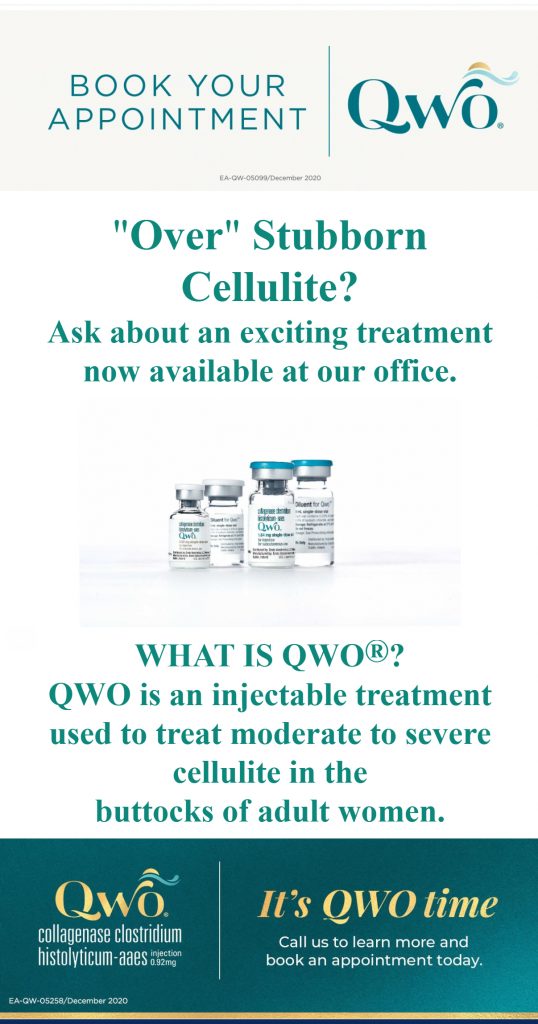 QWO is effective in treating stubborn cellulite in the buttock region. It's the first and only FDA approved injectable treatment for this purpose. It doesn't involve any scars, incisions, anesthesia, or cuts. You can receive QWO injections comfortably as an in-office procedure.
The procedure can usually be completed in less than 20 minutes by an experienced plastic surgeon. After the procedure, you can resume your daily routine or go back to work. No post-treatment downtime or advanced preparation is required. Board certified plastic surgeon Dr. Bryson Richards provides QWO cellulite treatment to patients in Las Vegas, NV, and surrounding locations.
Are You a Suitable Candidate for QWO?
You are not alone if you are struggling with severe or moderate cellulite appearance in your hip region. QWO is a clinically proven, noninvasive treatment for eliminating cellulite. The treatment is perfect for you if want to restore youthful looking and smooth buttock appearance without surgery in a sustainable manner.
Lifelong Results After 15 Minutes
QWO doesn't take more than 15 to 20 minutes. A small injection will be used by the aesthetic specialist for injecting QWO medication in the targeted area at precise tissue depths. There are three treatment sessions in an optimal treatment plan. Each session is spaced 21 days apart and can address two treatment areas. You should expect to achieve visible results in just 10 weeks.
QWO Cellulite Reduction Function
There are two enzymes in the QWO injectable formulation – collagenases (AUX I and II). This will target the structural formations under your skin that cause cellulite. The collagen rich structures are known as fibrous septae and are responsible for causing dimpling in the rear end skin.
Degradation of fibrous septae is triggered as QWO medication is injected at a precise depth in the sub-dermal dimple. Cellulite issue will begin resolving as collagen build-up breaks down in the fibrous septae.
QWO works in three ways in the affected areas:
Removes dimpling by releasing fibrous bands
Redistributes fatty cells for an even look
Promotes new collagen growth for volumized and firm buttocks
QWO is Clinically Proven
Safety and efficacy of QWO cellulite removal injectable was evaluated by researchers in extensive clinical studies that involved more than 1,800 women. Three treatments of QWO were given to these adult women at an interval of 21 days.
After four weeks of the completion of the program, results were evaluated. A significant portion of treatment providers and participants agreed that there was a noticeable reduction in the appearance of cellulite following the QWO injections.
Sculptra Aesthetic Filler vs. QWO Injectable
Sculptra Aesthetic dermal filler injections and QWO cellulite removal injections are separate in nature. QWO is designed for eliminating cellulite by treating fibrous septae bands. Sculptra Aesthetic, on the other hand, targets loss of skin elasticity in the buttock area for restoring support. Both treatments complement each other perfectly in the right candidate.
At your initial consultation, your cellulite removal expert will create a customized treatment plan for QWO injections with or without Sculptra fillers. Cosmetic surgeon Dr. Bryson Richards receives patients from Las Vegas, NV, and nearby areas for QWO cellulite treatment.
Contact Las Vegas Board Certified Plastic Surgeon Dr. Richards to Schedule a Consultation
If you would like more information on cosmetic surgery procedures and treatments performed by Las Vegas, Nevada plastic surgeon, Dr. Bryson Richards please contact us at 702.870.7070
Taking new patients from Las Vegas, Bullhead City,  Laughlin, Pahrump, Mesquite NV and surrounding areas.