Breast Implant Replacement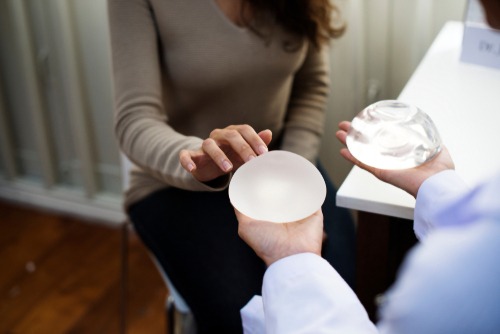 Most women will have their breast implants last for a very long time without any complications. New implant qualities are highly resilient and manufacturers usually offer a lifetime warranty on the implants. However, patients should know that despite the warranty, their breast augmentation results may not last a lifetime.  
You should expect that you may have to remove or replace your breast implants at least once in your lifetime. About a decade ago, an FDA report estimated that about 20 percent of women with implants would have to undergo a revision cosmetic surgery within 10 years of their initial implantation.  
This number is likely to have gone down further in the last decade, considering the rapid improvements in surgical techniques and breast implant qualities. As long as your primary breast augmentation procedure has been performed correctly, chances are that you can enjoy the results for at least 10 to 20 years without any trouble.  
Board certified plastic surgeon Dr. Bryson Richards provides cosmetic and reconstructive procedures to patients in Las Vegas, NV, and surrounding locations.  
When Do You Need Breast Implant Removal or Replacement?
Here are a few possible reasons why you may need to undergo a breast implant removal or replacement plastic surgery at some future date.  
You are Unhappy with the Implant Size  
After your breast implant surgery, you might realize at some point in the future that you are dissatisfied with your overall breast appearance because the implants are either too small or too large for your liking. If you have a change of aesthetic preferences, you may choose to have your implants removed or replaced any time.  
Capsular Contracture  
The natural healing reaction of your body following the insertion of implants at the time of breast augmentation will result in the formation of a protective scar tissue or capsule around the implants. In a few cases, this scar tissue may thicken or harden, causing tightness or pain in your breasts. 
In some patients, this condition may also lead to the implant losing its shape or moving from its position. You may require breast implant removal or breast implant replacement surgery to correct this condition.  
Implant Rupture  
If your saline implants get damaged or puncture, it will cause the implant to deflate. The saline solution will exit the implant, but it will not harm your health because it is a fully biocompatible fluid. Silicone implants may also get ruptured in rare cases, but the viscous silicone gel may not move out of the implant shell.  
In fact, the silicone implant rupture may be a silent one, and may only get detected during an MRI. In any case, an implant rupture will make it necessary to have your breast implants removed or replaced. 
Implant Revision Procedure 
You will usually have the choice to opt for breast implant removal without replacement or with implant replacement. If you want to avoid a replacement, you need to combine implant removal surgery with a breast lift to restore a firm and youthful natural breast appearance.  
Cosmetic surgeon Dr. Bryson Richards receives patients from Las Vegas, NV, and nearby areas for safe and proven plastic surgery procedures.  
Contact Us to Schedule a Consultation
If you would like more information on cosmetic surgery procedures and treatments performed by Las Vegas, Nevada plastic surgeon, Dr. Bryson Richards please contact us at 702.870.7070
Taking new patients from Las Vegas, Bullhead City,  Laughlin, Pahrump, Mesquite NV and surrounding areas.