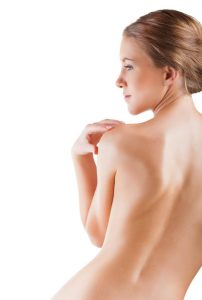 Unlike other body lift surgeries, back fat bra line lift is a relatively mild cosmetic surgery procedure that does not involve a prolonged recovery period. 
At the time of the pre-operative consultation, the surgeon will inform the patient about the procedure, advantages, and expected outcomes.
Certain surgeons may choose to show back fat bra line lift before and after pictures during the pre-op consultation stage to display the potential results of the procedure to the patient. Board certified plastic surgeon Dr. Bryson Richards provides back fat bra line lift surgery to patients in Las Vegas, NV, and surrounding communities. 
What are Back Fat Bra Line Lift Surgery Before and After Pictures?
Back fat bra line lift before and after images refer to photos of previous patients who have undergone the same procedure with good outcomes. 
The images include pictures taken before the procedure and after the surgery at a time when the post-operative inflammation and bruising in the incision areas are resolved, and the treated area has firmed up to accomplish its new shape.
The surgeon will acquire these images with the patient's consent and show them to new patients in a discreet and judicious manner. According to the standard protocol, the patient's identity is typically kept private.
The sole purpose of the surgeon is displaying these pictures as a visual tool is to explain the potential advantages of back fat bra line lift to new patients enabling them to make an enlightened decision.
These images can be seen anywhere via the power of the Internet and with digital technology these images are so clear than anyone can almost predict the future by applying what they see on their digital screen to their own body.  
Benefits
Patients seeking back fat bra line lift plastic surgery may not always have clarity on how this procedure can improve the appearance of their upper body. 
Certain patients may only require a moderate lift using a less invasive technique, while others may require a more invasive surgical procedure for a significant bra line lift. Sometimes, the surgeon may recommend the patient to undergo a back fat bra line lift in combination with another body lift procedure.
It can be challenging for a patient to make the most suitable decisions during the surgical planning process. Patients who view back fat bra line lift before and after images will often be better positioned to make well-informed choices. 
Staying Realistic about Outcomes
Cosmetic procedures necessitate that the candidate should have a positive mindset, clear goals, and reasonable expectations. The surgeon may display back fat bra line lift before and after images during the first appointment itself to make sure that the patient does not have misplaced notions. 
A review of these images will offer the patient a reasonably clear idea of what this procedure can and cannot do for them. Some surgeons may create a comprehensive portfolio of such images of previous surgeries, and the patient should carefully review them. 
Dr. Richards has nothing to hide and he's proud of his work. This is why he has a long list of satisfied clients and his reputation precedes him on many levels. You can see these images from anywhere in the world with a device you already own.
Website Photos
The surgeon may choose to upload back fat bra line lift before and after images on their practice website which is the case here and these images are so stellar that anyone can apply what they see to their own body. This allows anyone to know what they are getting involved with before ink is ever put on paper. 
Potential patients can readily view these images that their convenience, even before they set-up a personal back fat bra line lift consultation. These images display the fine work that has been done on previous patients any why so many patients are content when their treatment or surgery is completed.
In case the surgeon has a good presence on social media, they can use social media platforms to share these images with a wider audience and create more awareness. Cosmetic surgeon Dr. Bryson Richards receives patients from Las Vegas, NV, and nearby areas for back fat bra line lift surgery.
If you would like more information on cosmetic surgery procedures and treatments performed by Las Vegas, Nevada plastic surgeon, Dr. Bryson Richards please contact us at 702.870.7070
Taking new patients from Las Vegas, Bullhead City,  Laughlin, Pahrump, Mesquite NV and surrounding areas.