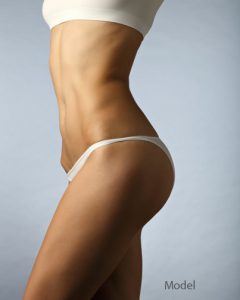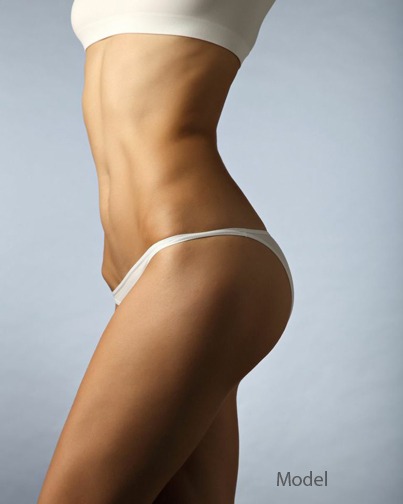 Leading aesthetic device company Syneron Candela has developed VelaShape II body reshaping system. This innovative, non-surgical technology helps patients accomplish chiseled body contours, reduce cellulite and circumference, and improve skin tone and texture.
Board certified plastic surgeon Dr. Bryson Richards provides VelaShape II body contouring treatments to patients in Las Vegas, NV and surrounding communities.
High Rates of Patient Satisfaction
VelaShape II is a unique non-surgical solution for contouring in body sites such as the thighs, flanks, abdomen, arms, and butt.
This technique can successfully treat stubborn issues such as cellulite. A majority of patients are highly satisfied with the treatment outcomes, especially since it enables them to accomplish chiseled body contours with no downtime and low to no discomfort.
The treatment time is brief, and many patients experience excellent outcomes in only one session. This makes the VelaShape II treatment ideal for busy moms and working professionals who seek body contouring in a quick and safe manner.
How does it Work?
VelaShape II enhances the body shape while addressing sagging skin, unappealing bulges, and cellulite that have been unresponsive to diet and exercise.  This procedure is entirely nonsurgical and noninvasive. It creates appealing body shaping outcomes through the use of the power of four distinct modalities simultaneously.
Bi-polar radiofrequency (RF) and infrared (IR) technology technologies combine to delicately heat fatty deposits at the optimal treatments depths (up to 3mm and 15mm respectively).
After that, vacuum and mechanical tissue manipulation promote fibroblast activity and targeted energy delivery. These cutting-edge technologies improve circulation, collagen generation, lymphatic drainage, and cellular metabolism.
Cosmetic Benefits
Decrease of skin laxity, looseness, and sagginess

Reduced volume and circumference of excess fatty tissue in the treatment areas

Visible reduction in the appearance of cellulite

Taut, smooth skin texture
Advanced Applicator
The unique and flexible VelaShape II applicator design allows for the treatment of more body areas than ever before. The VSmooth applicator is meant for more substantial treatment areas such as the butt, thighs, and abdomen.
On the other hand, the VContour applicator is ideal for smaller areas such as arms, flanks, and calves. To attain excellent results, patients should ideally undergo an initial series of six to ten-week treatment sessions. After that, the patient should receive one maintenance treatment per month.  
Proven Technology
VelaShape is the sole system that combines four different technologies to create a synergistic impact to provide enhanced skin appearance. Its unique action mechanism allows for comfortable and efficient results. Many clinical trials and over 3.5 million independent treatments attest to the effectiveness of this technology.  
Elimination of Cellulite
VelaShape II is a combination of four different technologies including bi-polar, RF, infrared, and mechanical tissue manipulation through pulse vacuum and massage rollers. The RF and IR technologies produce deep heat in the targeted connective tissue including the fibrous septae.
This promotes the production of new collagen and enhances localized cellular metabolism offering the patient dramatic improvements in skin volume and elasticity. Experienced cosmetic surgeon Dr. Bryson Richards receives patients from Las Vegas, NV and nearby areas for VelaShape II body contouring.

If you would like more information on cosmetic surgery procedures and treatments performed by Las Vegas, Nevada plastic surgeon, Dr. Bryson Richards please contact us at 702.870.7070
Taking new patients from Las Vegas, Bullhead City,  Laughlin, Pahrump, Mesquite NV and surrounding areas.