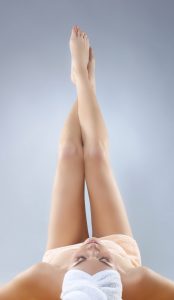 Thigh lift surgery is a popular lower body reshaping and contouring cosmetic surgery procedure today. At the time of treatment planning, the surgeon will engage closely with the patient to discuss all aspects of the procedure. The surgeon may choose to make use of thigh lift before and after photographs during the initial consultation process.
The first aim of the surgeon in such case is to ensure that patient is well-aware and is able to make an informed decision. Board certified plastic surgeon Dr. Bryson Richards provides thigh lift to patients in Las Vegas, NV, and surrounding communities in this part of the nation.
What are Thigh Lift Before and After Pictures?
Before and after pictures in case of a thigh lift plastic surgery procedure refer to a pair or group of images pertaining to a previous patient who has received the same treatment with satisfactory results.
The images include pictures taken prior to the procedure and after the procedure at a time when the initial bruising and swelling is resolved and full effects of the surgery are established.
The surgeon will obtain the prior consent of the patient for these photographs, and will present them before new patients in a discreet manner.
Their only purpose here is to educate new patients about the potential effectiveness of a thigh lift and explain what it can or cannot do for them. Thigh lift 'before and after' photos serve as a useful visual tool in this process. The patient's identity in such photos may be kept undisclosed as per the standard norm.
Benefits
When a new patient is considering thigh lift surgery, they may only have a limited idea of how the procedure may enhance their lower body appearance or impact their overall figure. Some patients may only need limited surgery to create a subtle lift in the thighs, while others may need a more invasive surgery for a substantial enhancement.
In some cases, the surgeon may recommend liposuction or buttock lift in conjunction with a thigh lift for more harmonious outcomes. For a new patient, it can be difficult to make the most appropriate choices on their own. This is where the surgeon may make use of thigh lift before and after photos and Dr. Bryson certainly does here.
His website is fantastic and patient after patient have utilized those cutting edge pictures to make a vital decision in their life. If they never become a patient of this that is fine too since he wants people to be comfortable with their decisions. The website allows people to see what to expect based on a variety of surgeries and from the comfort of someone's home or even standing in line at a movie theater for example.
Internet based technologies have changed the world and the plastic surgery community has embraced this technology and put it to strong use. Many industries across the spectrum use digital and Internet technology to spread vital information about their business. In this case, these outstanding pictures help people make fundamental decisions based on their appearance and situation in life.  
Being Realistic
It is important in any aesthetic procedure that the patient knows exactly what the procedure can or cannot do for them. This way the patient is likely to form accurate and realistic expectations from the results. The chances of any misunderstanding or disappointment occurring at a later stage are reduced.
This can be ensured with the help of thigh lift before and after photos. At the very outset, the patient will have a reasonable idea of what kind of improvements may be possible with this treatment. Patient satisfaction levels are typically higher in cases where they have advance access to before and after photos.
The surgeon may also choose to upload the pictures on their practice website for free access to new patients even before the patient is ready to visit the surgeon's office for a consultation which is the case here. Dr. Bryson believes in transparency and his amazing website verifies this.
Successful cosmetic surgeon Dr. Bryson Richards receives patients from Las Vegas, NV, and nearby areas for thigh lift.
If you would like more information on cosmetic surgery procedures and treatments performed by Las Vegas, Nevada plastic surgeon, Dr. Bryson Richards please contact us at 702.870.7070
Taking new patients from Las Vegas, Bullhead City,  Laughlin, Pahrump, Mesquite NV and surrounding areas.