Revanesse Versa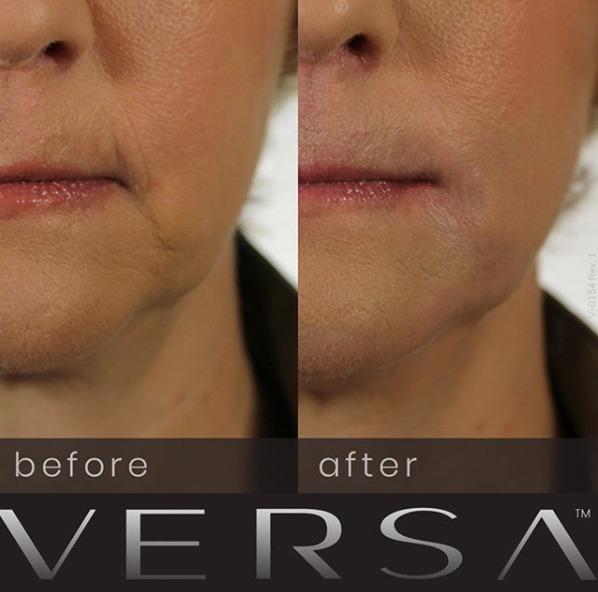 Revanesse Versa is the newest and highly effective hyaluronic acid based biocompatible dermal filler to achieve facial rejuvenation for patients without cosmetic surgery.
This injectable filler is designed to correct the appearance of nasolabial folds and other facial wrinkles and creases.
Revanesse Versa has been approved by the FDA for the cosmetic treatment of facial wrinkles and creases. Board certified plastic surgeon Dr. Bryson Richards provides Revanesse Versa dermal filler injections to patients in Las Vegas, NV and surrounding locations.
Proven Filler for Nearly Two Decades
Although Revanesse Versa has been introduced now in the US for people who are looking to take control of the signs of aging, this multi-purpose dermal filler is tried and tested worldwide with more than one million syringes used since 2002.
The filler is created using state of the art production methods, optimal ingredients and rigorous quality testing to provide remarkable results for people who want to avoid facial plastic surgery.
The Versa Difference
A unique formula, high quality ingredients and innovative manufacturing techniques differentiate Revanesse Versa from most other hyaluronic acid based cosmetic fillers.
Natural Looking Results
Versa filler gel is highly homogenous due to its advanced wet milling technology and proprietary formula. This means that the filler gel particles are uniquely spherical and uniform, providing an ideal balance between smoothness and volume for even, natural looking results.
Longer Lasting
The spherical particle shape of the Versa filler gel is designed to be accepted by the body more easily, and the gel disintegrates slowly over time in the deeper tissue. For added longevity, Versa exclusively uses advanced quality HA with a notably high molecular weight.
Reduced Swelling
In a recent study another popular (HA) dermal filler was shown to produce swelling 24% more often than Versa. The lower rate of swelling with Versa means many patients are able to get back to their normal routine almost immediately after the treatment.
Individual Quality Control and Safety Design
Versa dermal filler is manufactured in North America and conforms to global and FDA safety standards. Extensive tests are performed on all of the raw materials used to produce Versa and strict controls are used during the manufacturing process.
The manufacturer tests each batch meticulously in-house. As a final test, each syringe is individually inspected for its safety and efficacy.
Avoid a mass production approach, and producing the filler gel in smaller batches helps ensure that best quality standards are maintained and the product is always delivered fresh.
Superior Crosslinking of HA Molecules
A multicenter, double-blinded, randomized, split-face study of the safety and efficacy of Revanesse Versa hyaluronic acid gel for the correction of nasolabial folds established its superior safety and efficacy attributes. While a range of crosslinked HA fillers are available today, not all crosslinked HA gels are identical.
Crosslinking alters the rheological properties of HA gels, and the surgeon must choose which is crosslinked HA filler is more appropriate for a patient, and if required, modify their injection technique.
The advanced crosslinking process used in the manufacture of Revanessa Versa dermal filler is designed to promote links between different HA polymer chains and to minimize less effective links on parts of the same chain. An optimal degree of crosslinking inhibits the natural degradation of the filler, thus prolonging longevity in the treated area.
The filler gel milling results in small, spherical, and uniform particles to promote optimal integration in the treated area, slow, predictable breakdown, and ease of injection. Committed cosmetic surgeon Dr. Bryson Richards receives patients from Las Vegas, NV and other towns and communities in this region of the southwest for dermal filler injections.
If you would like more information on cosmetic surgery procedures and treatments performed by Las Vegas, Nevada plastic surgeon, Dr. Bryson Richards please contact us at 702.870.7070
Taking new patients from Las Vegas, Bullhead City,  Laughlin, Pahrump, Mesquite NV and surrounding areas.