Kybella 
Excess deposits of fat tissue in the chin and upper neck area is a common condition for both men and women. This excess submental fat can spoil the chin profile and make the chin and lower face appear aged and unsightly. Liposuction or other cosmetic surgery treatments are available to address double chin, but not every patient may choose an elective surgery.
In such cases, now patients have a new and highly effective non-surgical solution called Kybella, which is designed to reduce double chin without any cuts or incisions. Leading plastic surgeon Dr. Bryson Richards has introduced Kybella treatment at his practice to address the aesthetic needs of patients in Las Vegas, NV and surrounding communities with regard to double chin reduction.
Safe and Proven Treatment
Kybella or ATX-101 is exclusively designed to treat double chin without plastic surgery. The treatment has received the FDA approval after extensive trials, and now it has become the first and only non-surgical treatment to be approved by the FDA for the reduction of submental fat or double chin.
Keith Leonard, the president and CEO of Kythera, the company that makes Kybella, says that it is a proven treatment that can be customized to match with the unique aesthetic needs of a patient with regard to an enhanced chin profile. As the treatment is non-surgical and the results are so effective, the patient satisfaction rates with Kybella are very high.
"With Kybella, physicians can offer a clinically-proven treatment that is customized to the patient and their treatment goals for an improved chin profile," said Leonard. As an experienced cosmetic surgeon, Dr. Richards provides Kybella and various other state of the art aesthetic procedures to patients in Las Vegas, NV and nearby areas.
Test Results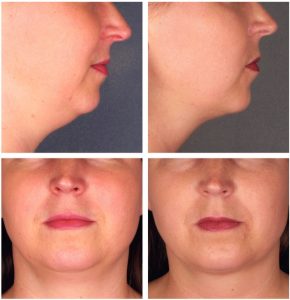 An international clinical development program was undertaken to determine the efficacy of Kybella. The program encompassed over 20 clinical studies and 2,600 patients around the world. In the pivotal Phase III studies, over 68% of the patients affirmed a positive response to Kybella. The patients noted fat reduction in the area below the chin. Due to this submental fat reduction, many patients also reported emotional benefits.
Procedure
Kybella treatment program is tailored according to the specific condition of a patient. Kybella is administered through injections directly into the targeted submental fat area. A single treatment session can last for about 15 to 20 minutes. Most patients will require two to four treatments to achieve desirable outcomes. In severe cases, up to six treatment sessions may be performed.
Dr. Michael C. Edwards, the President of the American Society for Aesthetic Plastic Surgery (ASAPS), endorses Kybella as a revolutionary treatment with highly promising potential to transform the aesthetics field with regard to double chin reduction.
Dr. Edwards recommends that patients should select the best surgeon to achieve safe and desirable results with an advanced injectable treatment such as Kybella. The downtime involved in this treatment is minimal, and the risk of complication is very low, which makes it more popular with working people and busy moms.
If you would like more information on cosmetic surgery procedures and treatments performed by Las Vegas, Nevada plastic surgeon, Dr. Bryson Richards please contact us at 702.870.7070