Halo is the first Hybrid Fractional Laser (HFL) in the world. It is a revolutionary skin resurfacing treatment. Halo provides non-ablative and ablative energy to the same microscopic area that is being treated.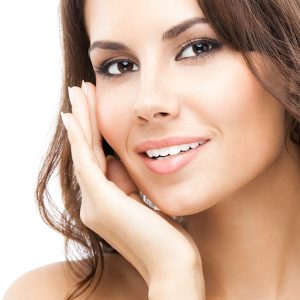 HFL has proven itself to be a winner and comes without the downtime or discomfort that may usually occur with a laser treatment.  
Committed board certified plastic surgeon Dr. Bryson Richards provides laser skin resurfacing and various other procedures to patients in Las Vegas, NV and other neighborhoods and towns in this region of the southwest.
Technology
Halo delivers non-ablative and ablative wavelengths to the same tiny treatment area to provide excellent outcomes with minimal downtime. This new laser technology provides patients with precise, predictable, and effective results that improve the appearance of various skin problems. The laser skin resurfacing treatment is ideal for candidates who want to avoid cosmetic surgery.
The system combines intelligent energy delivery with Dynamic Thermal Optimization which offers patients targeted, safe, and effective outcomes. The laser technology is convenient to use and almost pain-free. It is a benchmark for laser resurfacing treatments of the future due to the safe and robust hybrid solution it offers.
Key Aspects of the Treatment
Visible signs of aging such as discoloration, scars, laxity, and wrinkles are a result of extended sun exposure, an active lifestyle and routine wear and tear of the skin. An ablative or coagulative fractional treatment enables the epidermis to recover fasters so long as the dermis is undamaged.
Ablative fractional resurfacing is a proven treatment that ablates aged tissue with less thermal damage and is associated with mild to moderate levels of downtime and morbidity.
On the other hand, non-ablative fractional resurfacing leads to thermal injury and tissue coagulation with lower morbidity levels. Halo offers patients an improved experience while providing safe and effective results without involving plastic surgery.
Advantages
Halo provides patients the following advantages:
It can treat pores with a combination of ablative and non-ablative wavelengths

The outcomes establish in only one to two treatment sessions rather than three to five traditional resurfacing treatments

The treatment is more convenient and comfortable in comparison to traditional fractional resurfacing as it does not require nerve blocks

Quicker recovery
Aesthetic benefits include:
Reduces the effects of Sun Damage/Dyschromia

Addresses aging signs

Reduces the appearance of enlarged pores

Offers evenness to an uneven skin tone

Improves poor texture

Corrects discoloration

Mitigates fine lines

Improves the presence of light scars
Halo is effective in the treatment of bodily and facial skin in most areas. Patients seek Halo on areas such as the chest, neck, hands, arms, scarring, and legs.
Outcomes
The Halo treatment offers excellent enhancements to skin texture and pigment. Patients can expect beautiful results in one to two treatment sessions. Older non-hybrid treatments typically require five to fix treatments to establish similar texture changes without any comparable improvements in pigmented skin.
Halo provides patients with a unique treatment experience. The session is almost painless and involves the use of only a topical anesthetic rather than nerve blocks. Furthermore, patients can even use makeup within a span of 24 hours following Halo.
Halo addresses long-term skin damage issues such as:
Sun damage

Scar revision

Apparent signs of aging

Uneven skin tone

Enlarged pores

Poor texture

Discoloration

Fine lines
Minimal Downtime
Halo offers patients the excellent outcomes with minimal downtime. It provides the best of both worlds by combining profound dermal revitalization with epidermal renewal.
This offers a synergistic improvement which is not possible with any other treatment. Accomplished cosmetic surgeon Dr. Bryson Richards provides laser skin resurfacing to patients in Las Vegas, NV and nearby areas in The Sagebrush State.
If you would like more information on cosmetic surgery procedures and treatments performed by Las Vegas, Nevada plastic surgeon, Dr. Bryson Richards please contact us at 702.870.7070
Taking new patients from Las Vegas, Bullhead City,  Laughlin, Pahrump, Mesquite NV and surrounding areas.