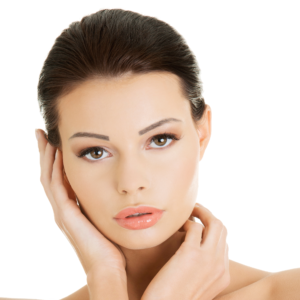 Other than aging, a variety of damaging environmental factors (such as the wind, sun, and pollutants) can impact the outermost skin layers. This age-related and environmental harm to the skin becomes cumulative over time.
This type of compounded damage can take a noticeable toll on the appearance and health of the skin, while also causing a wide array of textural and irregularity issues.
Patients who want to avoid cosmetic surgery can choose from various non-surgical skin resurfacing treatment options to rejuvenate and restore healthy skin. Dependable board certified plastic surgeon Dr. Bryson Richards provides tummy tuck to patients in Las Vegas, NV and surrounding locations in this region of The Silver State.
Laser Skin Resurfacing
In this skin resurfacing procedure, a fractionated CO2 laser pulsate light beams into affected layers of the skin. This treatment harnesses the power of thermal energy using it to heat the underlying skin layers (dermis). This stimulates the production of collagen. Collagen is a protein that is essential for the growth of healthy, new skin cells. High levels of collagen help provide the skin with an even, smooth, and youthful appearance.
This non plastic surgery treatment precisely targets affected skin which enables the protection and preservation of the fragile neck and facial skin. Furthermore, laser resurfacing prevents possible irregularities such as hyperpigmentation and hypopigmentation from developing.
Chemical Peel
Chemical peels are also known as derma-peeling or chemexfoliation procedure. These peels are offered in a wide range of chemical formulas and strengths to improve the skin's appearance and condition.
Chemical peels are minimally invasive and use a robust chemical exfoliation process to eliminate the damaged outermost skin layers (epidermis) to reveal bright, healthy, and youthful looking skin. Chemical peels are often offered in three strengths (deep, medium, and mild).
Deep chemical peels use the active chemical compound phenol and croton oil to mitigate the appearance of noticeable wrinkles on the face. The strength of the peel determines the potential improvements in the skin. But more powerful peels also have a greater risk of possible complications such as scarring or skin lightening. Such peels have a more extended recovery period than mild peels.
Laser Hair Removal
The laser device targets and heats the melanin in hair follicles selectively to reduce unwanted hair from the skin. Advanced laser hair removal devices such as Nd:YAG can cover substantial treatment areas rapidly and effectively. It simultaneously delivers constant cooling to ensure that the patient remains comfortable. The Nd:YAG laser is safe for all types of skin.
The primary benefit of laser hair removal over other methods of hair removal is that the outcomes are long-lasting and accurate. The Nd:YAG laser targets the melanin or pigment in the unwanted hair follicles. The melanin receives intense heat energy through absorbing the light. This leads to the destruction of the hair follicle which inhibits future hair growth.
During the initial consultation, the laser treatment provider will inform the patient that hair growth happens in cycles. This means that a single laser session will eliminate the hair in the present growth cycle. To eradicate all hair follicles in future growth cycles, the patient will need around 4 to 8 laser treatment sessions.
Committed cosmetic surgeon Dr. Richards receives patients from Las Vegas, NV and other towns and neighborhoods in this part of the southwest for skin resurfacing treatments.
If you would like more information on cosmetic surgery procedures and treatments performed by Las Vegas, Nevada plastic surgeon, Dr. Bryson Richards please contact us at 702.870.7070
Taking new patients from Las Vegas, Bullhead City,  Laughlin, Pahrump, Mesquite NV and surrounding areas.