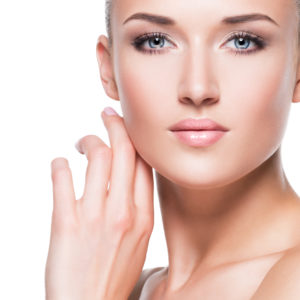 Sculptra Aesthetic is an FDA approved facial filler for people who need restoration of facial volume and improvement of aging effects without having to undergo facelift cosmetic surgery.
The unique ingredient in this injectable filler is poly-L-lactic acid, which is a biocompatible compound designed to volumize depleted facial areas and treat the signs of lipoatrophy involving significant loss of facial fat.
Sculptra facial filler is known as a liquid facelift because it reduces facial lines and wrinkles and firms up sagging or thinning facial skin with just an in-office injectable procedure. Board certified plastic surgeon Dr. Bryson Richards provides Sculptra facial filler to patients in Las Vegas, NV and other cities and towns in this area of the southwest.
Long-lasting Filler
Sculptra Aesthetic creates more substantive and longer lasting results compared to most other dermal fillers. One of the underlying causes of facial aging is depletion of natural collagen, which performs the role of providing structural support to the skin. Sculptra works in the deeper skin layers to stimulate the production of fresh collagen fibers to rejuvenate the facial skin in the injected sites.
The treatment with Sculptra is not merely superficial. It promotes new collagen production from within, which allows for continued enhancement of facial volume, improved cheek fullness and minimal appearance of facial creases and wrinkles. This natural growth mechanism ensures that results with Sculptra Aesthetic treatment can last for up to two years.
Treatment Plan
For patients who want to avoid facelift plastic surgery, the surgeon may recommend a customized Sculptra Aesthetic treatment plan for the right candidates. To ensure that the treatment produces maximum benefit and lasts its full course, a patient may typically need to receive a series of three Sculptra injection sessions spread over a period of three to four months.
The number of injections or the volume of gel injection can vary between two patients, depending on the degree of correction needed and the individualized injection plan determined by the provider. Outstanding and superlative cosmetic surgeon Dr. Richards receives patients from Las Vegas, NV, and other neighborhoods and communities in this part of The Sagebrush State for Sculptra Aesthetic.
How does it Work?
Sculptra Aesthetic filler gel is composed of poly-L-lactic acid (PLLA). The gel is administered through a cross hatch injection technique or with a deep dermal grid pattern. PLLA is a proven stimulator of collagen, and works well within the deep dermis rather than superficially.
Production of new collagen fibers due to the absorption of PLLA micro particles will gradually help to restore and replenish the skin's inner structure and volume. This will enable a sustainable and naturally looking reduction in the appearance of facial folds and wrinkles as well as fill the mid-face depressions.
Retreatment
Sculptra Aesthetic liquid facelift results will establish over a few weeks or months. The treatment regimen is typically performed in the form of: "Treat, Wait, Evaluate, and Retreat if required." The provider may like to wait and assess whether adequate Sculptra volume was injected the first time before deciding the plan for additional injections. A sagacious provider will be able to avoid the risk of overcorrection by delivering a customized treatment regimen.
If you would like more information on cosmetic surgery procedures and treatments performed by Las Vegas, Nevada plastic surgeon, Dr. Bryson Richards please contact us at 702.870.7070
Taking new patients from Las Vegas, Bullhead City,  Laughlin, Pahrump, Mesquite NV and surrounding areas.