Tummy Fat Removal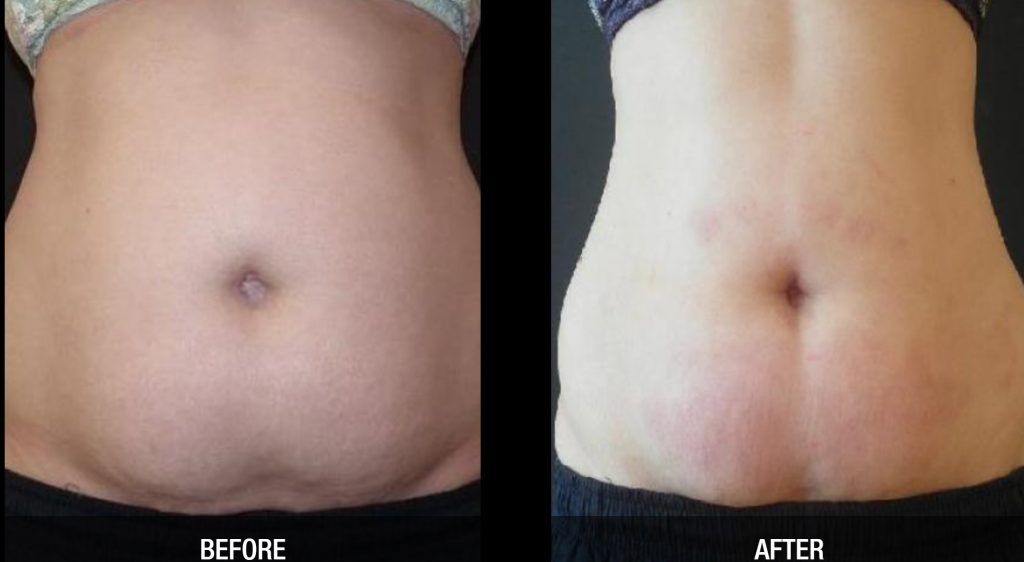 VelaShape II is a cutting edge technology that contours body fat in a non-invasive manner. The treatment is effective for skin firming/tightening, cellulite reduction, and reducing fatty deposits and circumference in flanks, abdomen and other areas. VelaShape II safely and effectively shapes, contours, and slims down the abdominal area by firming up the fat pockets and reducing cellulite.
Patients typically notice visible results in circumferential reduction after 3 – 6 treatments. The surface of the skin also appears firmer and smoother. Few patients see results right after the first visit. The treatment resulted in patients reducing circumference by one full dress size in clinical trials after a series of sessions.
During your initial consultation, explore your best treatment options for abdominal contouring with your surgeon. Board certified plastic surgeon Dr. Bryson Richards provides non-surgical tummy fat reduction treatments to patients in Las Vegas, NV, and surrounding communities.
Are Results Quick?
You will notice a gradual improvement in the targeted area almost immediately. The skin will begin feeling firmer and smother. Over time you will notice the circumference reducing all over the treated area. There will also be significant reduction in cellulite appearance. However, best results would take at least 10 weeks to manifest completely.
Are Results Permanent?
VelaShape II results in temporary results. However, you can prolong results with a follow-up treatment regimen. VelaShape II is a non-invasive procedure and you would need to support it with a balanced diet and exercise routine.
Number of Sessions Required
You would need about 3 – 4 treatment sessions for achieving the best results. You can substitute a longer session with multiple shorter ones. Your treatment provider will determine the best plan for you.
Causes of Cellulite
There is no specific or detailed explanation to the occurrence of cellulite. It is usually the result of an unhealthy lifestyle. However, it can also be caused because of hormonal changes and genetics. Many people, especially women get cellulite even after maintaining a healthy lifestyle and following an exercise regimen.
VelaShape II Is Safe and Painless
VelaShape II treatment is an effective and safe procedure for all skin colors, textures, and types. There are no short or long term side effects to the procedure. Most patients call the procedure to be painless. They describe the sensation as getting a warm deep-tissue massage.
The device has easily adjustable treatment parameters to customize your experience and make it as comfortable as possible. Few patients report skin redness and mild bruising which disappears after a few hours.
VelaShape II Technology
VelaShape II makes use of a combination of different technologies for contouring the body and reducing the appearance of cellulite. Bi-polar radio frequency energies and infrared light heat the surrounding tissues and fat cells. VelaShape II makes use of thermal energy very safely. Higher levels of thermal heat help in attaining better results.
Additionally, a higher degree of controlled heat will lead to quicker results in the body and you can notice a marked improvement in your cellulite and fat reduction. Many patients report of visible results after the first result. Cosmetic surgeon Dr. Bryson Richards receives patients from Las Vegas, NV, and nearby areas for non-surgical treatments to reduce excess tummy fat deposits.
Contact Las Vegas Board Certified Plastic Surgeon Dr. Richards to Schedule a Consultation
If you would like more information on cosmetic surgery procedures and treatments performed by Las Vegas, Nevada plastic surgeon, Dr. Bryson Richards please contact us at 702.870.7070
Taking new patients from Las Vegas, Bullhead City,  Laughlin, Pahrump, Mesquite NV and surrounding areas.