Flank Fat Removal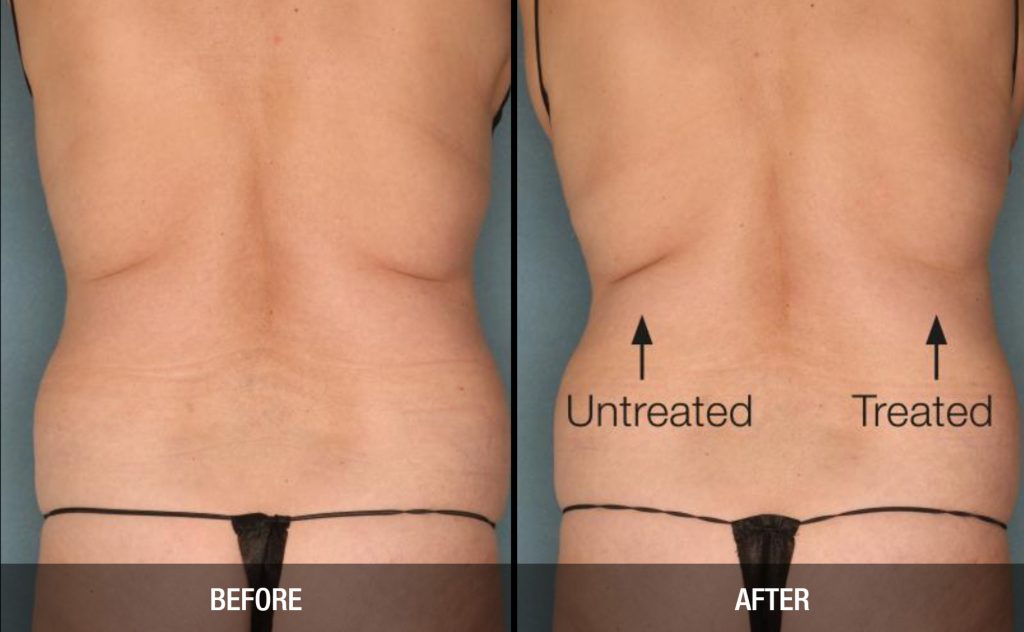 Some types of fats are easy to get rid of with regular exercise, while others tend to hang around your flanks or abdominal area for decades. VelaShape II is a pioneer non-invasive body toning treatment for cellulite and circumferential reduction. It enables patients to achieve a more sculpted and toned body in just three treatment sessions. You will end up feeling more youthful and toned with the dramatic results brought on by VelaShape II.
You can get rid of jiggly flank fat (fatty tissue in the love handles) and stubborn fat around the abdomen in a comfortable and safe way. Board certified plastic surgeon Dr. Bryson Richards provides non-surgical flank fat reduction treatments to patients in Las Vegas, NV, and surrounding locations.
Technology Platform of VelaShape II
Elos is a revolutionary new technology and the secret behind the success of VelaShape II. It combines four powerful energy types:
Infrared Light energies
Negative pressure (vacuum)
Bi-Polar Radio Frequency (RF)
Tissue manipulation (mechanical massage)
Results Supported by Studies
VelaShape II has clinically supported results which show that the technology can result in significant improvement in flanks contour and shape. The treatment remodels and reduces targeted subcutaneous fat layer. Alterations in physical integrity were shown by fat cells with various cell membrane forms rupturing and reducing fat tissue. This was seen through biopsy studies.
Clinical studies showed the following:
Circumference reduction of 0.6 cm in the arm area
Circumference reduction of 3.2 cm in the hip area
Circumference reduction of 5.73 cm in the abdomen, 4.18 cm on thighs, and 5.86 cm on hips
Massive Improvement in Skin Texture and Tone
VelaShape II, on an average, reduces cellulite by 65% on most patients. Clinical studies showed 50% improvement in cellulite appearance. Blinded doctor based evaluation showed an improvement of 40% while patient based assessment found an improvement of 62% in skin texture and cellulite reduction.
Significant visual improvement was witnessed in 50% subjects while improvements in skin texture were noticeable in 51% patients. All patients reported an increase in skin contraction because of the treatment. Skin tightening and reduction in laxity was noticed by both patients and physicians.
VelaShape II Treatment
The treatment provider will apply a lubricating spray on the targeted love handle areas prior to the treatment. VelaShape II feels like getting a deep tissue massage or an intense workout. Many patients tend to fall asleep because of the relaxing massage. You can ask the treatment provider to alter the settings if you feel discomfort.
Higher settings tend to be more effective though. Few people experience temporary redness aside from the mildly hot sensation. Bruising is also possible, which gets reabsorbed by the body within a few days. You can resume your regular routine, including sports activities immediately after the session.
You may notice an increase in your urination frequency and output. This is because you would be required to increase the amount of your fluid intake. Cosmetic surgeon Dr. Bryson Richards receives patients from Las Vegas, NV, and nearby areas for non-surgical treatments to reduce excess flank fat deposits.
Contact Las Vegas Board Certified Plastic Surgeon Dr. Richards to Schedule a Consultation
If you would like more information on cosmetic surgery procedures and treatments performed by Las Vegas, Nevada plastic surgeon, Dr. Bryson Richards please contact us at 702.870.7070
Taking new patients from Las Vegas, Bullhead City,  Laughlin, Pahrump, Mesquite NV and surrounding areas.