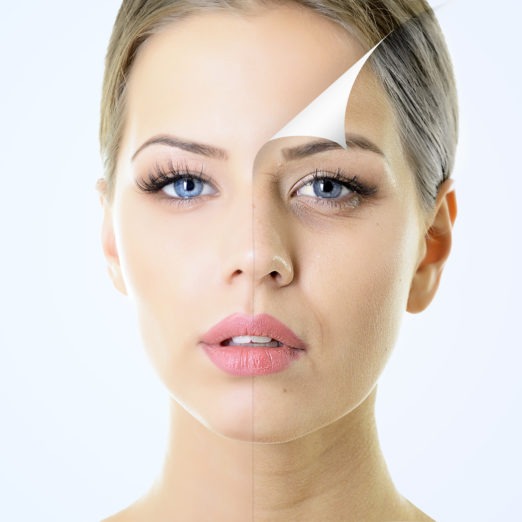 SKIN RESURFACING OPTIONS
In addition to the negative aesthetic changes brought about by the aging process, the outermost layers of the skin are also exposed to a vast number of damaging environmental elements (i.e. sun, wind, pollutants) on a daily basis. Over time, as this age-related and environmental damage is compounded, it starts to take a visible toll on the health and appearance of the skin, often leading to the development of a number of skin irregularities and textural problems, including: sun-damaged skin, acne, enlarged oil glands, liver spots, scarring, fine lines/wrinkles, aging skin, warts, pigmentation problems, and other skin abnormalities.
At the private plastic surgery practice of Dr. Bryson Richards, located in Las Vegas, Nevada, Dr. Richards is pleased to offer the following skin resurfacing treatment options, which have been selected for their ability to safely rejuvenate the appearance of the skin, while effectively correcting any signs of damage that have accumulated over the years:
Laser Skin Resurfacing: for this skin resurfacing treatment, a fractionated CO2 laser directs pulsating beams of light to remove damaged skin cells one layer at a time, while harnessing the power of thermal energy to heat the underlying layers of the skin (dermis), thereby triggering the production of collagen. Collagen is a protein that is crucially important for the growth of new, healthy skin cells, and high levels of collagen contribute to the appearance of a more evenly textured, beautifully smooth skin surface. The precisely targeted nature of laser skin resurfacing allows for the preservation and protection of the delicate skin of the face and neck, and prevents potential pigmentation irregularities (hypopigmentation, hyperpigmentation) from occurring.
Chemical Peel: also referred to as chemexfoliation or derma-peeling, chemical peels are offered in a variety of strengths and chemical formulas geared toward enhancing the appearance and condition of the skin. Chemical peels are minimally invasive skin rejuvenation treatments that utilize a powerful chemical exfoliation process to remove the damaged, outermost layers of the skin (epidermis), in order to reveal healthy, smooth, glowing skin. These skin treatments are generally offered in three strengths (mild, medium, and deep). Our deep chemical peels utilize the powerful chemical compound phenol and croton oil to minimize the appearance of prominent facial wrinkles.  The stronger the peel, the greater the potential for dramatic improvements in the appearance of the skin; however, stronger peels also carry a higher risk of potential complications (i.e. scarring or skin lightening) and require a longer recovery period than a mild peel.
Laser Hair Removal: the Nd:YAG laser selectively targets and heats melanin in hair follicles for hair reduction. The Nd: YAG covers large treatment areas quickly and evenly, while delivering continuous contact cooling for comfort. Safe for all skin types.
CONTACT DR. RICHARDS
Dr. Richards understands that every patient has unique medical needs and aesthetic preferences, which is why his treatment philosophy is based upon the foundational principle of individualized customization. In practice, this concept amounts to in-depth consultations, treatment plans that have been tailored to meet your specific needs, and comprehensive patient education, both before and after your skin resurfacing treatment.
Dr. Richards makes it a priority to spend ample time with each patient, and to be highly accessible to his patients throughout their aesthetic enhancement experience. If you have questions concerning a specific skin resurfacing procedure, or about skin resurfacing treatments in general, please contact our office today. We look forward to speaking with you, and to scheduling your initial consultation with Dr. Richards.