HydraFacial MD™
Cost: $150 per treatment

Ideal for hydrating and exfoliating skin, as well as extractions to unclog pores

Excellent maintenance treatment to be used in-between other treatments

Can be done anytime, any season
Fine lines and wrinkles, spots and pigmentation problems, a rough, dry complexion: these common signs of sun damage and the natural aging process are, unfortunately, inevitable. Yet while we cannot hope to maintain our skin's youthful, healthy glow forever, regular skin rejuvenation treatments with
HydraFacial MD™
can help replenish your skin's natural moisture, restore its optimal nutrient levels, and help you preserve and prolong its fresh, smooth, healthy appearance. Utilizing a patented infusion process known as
Vortex-Fusion®
, this revolutionary facial simultaneously removes damaged skin cells to reveal a new, healthy complexion and infuses your skin with key nutrients and antioxidants to keep your skin—and you—looking fresh, active, and young. Not only that, it feels great!
Board certified plastic surgeon Dr. Bryson Richards is pleased to offer this incredible, non-invasive skin rejuvenation treatment at his private surgical practice and medical spa in Las Vegas, Nevada. Your HydraFacial MD™ treatment will be performed by our specialist Lynette Stephens, working under the close supervision of Dr. Richards. Lynette has over 20 years of experience performing a full range of non-invasive and minimally-invasive skin treatments, and like Dr. Richards, prides herself on offering only state-of-the-art skin care services such as the powerful and highly-effective HydraFacial MD™.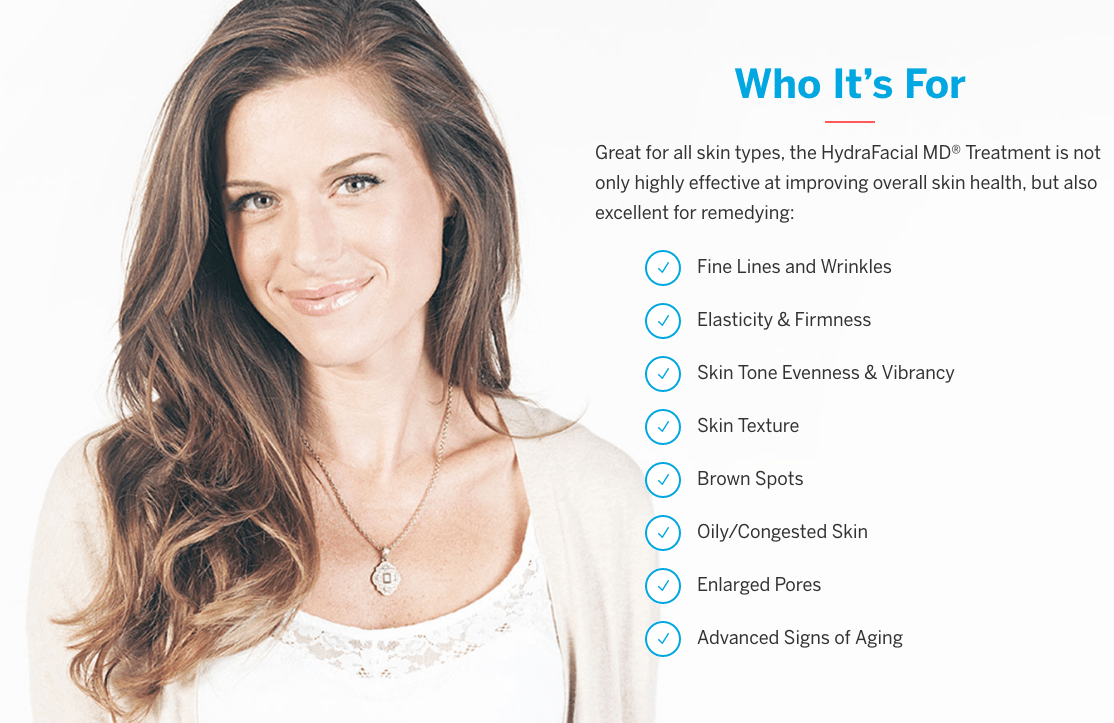 HydraFacial MD™ Benefits
HydraFacial MD™ improves the health of your skin by hydrating and nourishing the skin while simultaneously removing dead skin cells and extracting impurities, resulting in a youthful, healthy glow! The HydraFacial MD™ treatment:
Removes impurities, damage, and dead skin cells through a patented exfoliation technique

Cleanses, exfoliates, extracts, and hydrates in just one single treatment using spiraled HydroPeel® tips

Restores a firm, lifted, and smooth appearance with gentle infusions of antioxidants, peptides, and hyaluronic acid

Reduces common skin complaints such as fine lines/wrinkles, hyperpigmentation (patches of darkened skin, melasma), oily skin, and clogged pores

Non-invasive and non-surgical, offering dramatic results without discomfort or downtime

Can be completed in only 30 minutes

Safe and appropriate for all skin types (even sensitive skin)

Your HydraFacial MD™ Experience
HydraFacial MD™ offers dramatic skin-enhancing results with no downtime or discomfort! In fact, many patients describe the HydraFacial MD™ experience as relaxing and reinvigorating, with the sensation of having "a cool paintbrush moving over the face." While every HydraFacial™ experience is custom-formulated for your unique skincare concerns, all HydraFacial™ treatments involve the same four steps:
Cleansing and exfoliation

: dead skin cells are gently removed to reveal new, healthy skin

Acid peel

: gently loosens dirt, debris, and build-up to clear and clean the pores

Extraction

: HydraFacial MD™'s patented vortex suction automates extractions in order to more effectively clear pores without irritation or discomfort

Hydration

: the skin is infused with hyaluronic acid and antioxidants to improve hydration and nourishment
Many patients see noticeable improvements in the tone, texture, health, and glow of their skin immediately after their first HydraFacial MD™ treatment. However, to optimize and prolong your results, we recommend the use of prescription-grade home skin care products, constant use of skin screen, and monthly maintenance HydraFacial MD™ treatments.
Contact Dr. Richards
Dr. Richards understands that every patient has unique medical needs and aesthetic preferences, which is why his treatment philosophy is based upon the foundational principle of individualized customization. In practice, this concept amounts to in-depth consultations, treatment plans that have been tailored to meet your specific needs, and comprehensive patient education, both before and after your skin rejuvenation treatment.
Dr. Richards makes it a priority to spend ample time with each cosmetic surgery patient, and to be highly accessible to his patients during every phase of their aesthetic enhancement experience. He works closely with Lynette to ensure the safety and efficacy of every treatment. If you have questions about the benefits of HydraFacial MD™, or about our skin rejuvenation treatments in general, please contact our office today. We look forward to speaking with you!