BREAST REVISION SURGERY
Breast revision is a corrective procedure performed to improve upon the results of a previous breast surgery. A breast revision is typically a more challenging, complex procedure than the original breast surgery, because the surgeon performing the breast revision must be prepared to address complications such as the buildup of scar tissue on or around the breast capsule. At the private plastic surgery practice of Dr. Bryson Richards, located in Las Vegas, Nevada, Dr. Richards employs cutting edge surgical techniques to safely address and correct any unforeseen implant-related complications during breast revision surgery. In doing so, Dr. Richards has helped many patients achieve their vision of ideal breast aesthetics with carefully customized breast revision procedures.
BREAST REVISION GOALS
Revisionary breast procedures are frequently performed to correct implant-related complications after a previous breast surgery, and/or to modify the results of an earlier breast procedure in order to reflect a shift in the patient's aesthetic preferences:
Implant Complications: although many breast implant manufacturers are now offering extended implant warranties, the fact remains thatbreast implants are not guaranteed to last a lifetime. Breast revision surgery becomes medically necessary after trauma to the breast region and/or the development of complications pertaining to the implant itself. Examples of implant-related complications that may be resolved with a breast revision procedure include the following:
Deflation or rupture of the breast implant
A shift in implant position after incorrect placement during the original breast augmentation, which can create the appearance that the implants are situated too far apart or too low on the chest, or can lead to cleavage that looks too wide
Visible rippling, ridges, or wrinkling on the implant shell that can be seen through the skin. The rippling effect is more likely to occur when there is not enough breast tissue surrounding the implant, or when the implants were placed above the pectoral muscle (sub-glandular) during the original surgery.
Capsular contracture—the most common implant-related complication, capsular contracture involves a hardening of the breasts as a result of scar tissue forming around the breast implant. Capsular contracture may cause the breasts to feel hard, to become tender and painful, or to appear too firm and round ("grapefruit breasts").  This issue can be corrected through the removal of the scar tissue with a capsulectomy or capsulotomy procedure.
Aesthetically undesirable alterations to the appearance of the breasts as a result of the natural aging process, pregnancy, or dramatic weight fluctuations
The "double-bubble" deformity (the original breast tissue appears to sit on top of the implant)—this complication is more likely to occur when the implant is placed below the muscle (sub-muscular placement) rather than above it, or when an attempt was made during the original surgery to lower the infra-mammary fold.
Asymmetrical breasts or unnatural-looking nipples after breast reconstruction following breast cancer treatment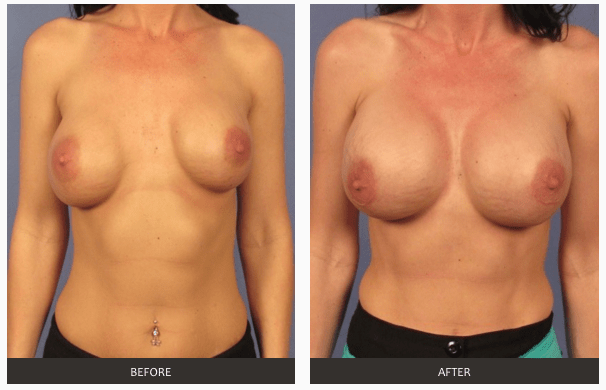 Shifting Aesthetic Preferences: As time passes, it is natural for aesthetic preferences to evolve, which may impact the way a patient feels about the look of her original breast implants. Below you will find examples of motivating factors for breast revision surgery that are premised upon a change in aesthetic preferences:
The desire for smaller implants
The desire for larger implants– a recent FDA survey indicated that 37% of all breast revision surgeries in the United States are performed on women seeking to increase the size of their original implants
Changing the type of implant (switching from silicone to saline or vice versa)
Complete removal of the breast implants, which may or may not be performed in conjunction with a breast lift
The exact details of your breast revision procedure and recovery period will depend upon your motivation for having the surgery, and the implant modifications or corrections you wish to make. Dr. Richards will help to guide you throughout your breast revision experience, offering his expert advice to facilitate the optimal surgical outcome and the fulfillment of your unique breast surgery goals.
CONTACT DR. RICHARDS
Dr. Richards realizes that every patient has unique medical needs and aesthetic preferences, which is why his treatment philosophy is based upon the foundational principle of individualized customization. In practice, this concept amounts to: in-depth consultations, treatment plans that have been tailored to meet your specific needs, and comprehensive patient education, both before and after your breast revision procedure.
It is one of Dr. Richards' top priorities to spend ample time with each patient, and to be highly accessible to his patients during every phase of their aesthetic enhancement experience. If you would like additional information about how a breast revision procedure can help you to improve upon the results of a previous breast surgery, please contact our office today. We look forward to speaking with you, and to scheduling your initial consultation with Dr. Richards.